Every big enterprise or a growing startup sooner or later have to decide between hiring a dedicated team of developers or extending an in-house one. In this overview, we will explain when it's more reasonable to go with dedicated software developers, do's and don'ts, how the remote team works, benefits for this approach and how to set up your trusted remote development.

A Dedicated Development Team or a Fixed-Cost Contract?
There are two ways to work with an offshore software development company: a dedicated team or a fixed-cost contract. Both models are good. Much depends upon what exactly you are looking for and what is your purpose.
The fixed-cost contract provides standard technologies and detailed software specifications for a fixed price, which means that you have all the requirements defined before starting the work.
The dedicated developer contract allows select IT professionals to join their in-house crew for an extended period of time. Therefore, the total cost of the project will depend on the tasks assigned.
Let's try thinking of a dedicated model as not a fixed-price contract but an outstaff team, that is a part of the client's company at a time. Client hires already formed a qualified team of IT professionals (developers, PM, QA, designer) that will concentrate only on his business tasks and goals, share the client's company vision. Outsource company set everything up, scale the team according to client's requirements, solve many software development challenges. At the same time, the client can work within the project coordination and has full management control over the team.
Businesses large and small actively outsource their IT operations: 
The increased demand for dedicated development team services is explained by the high ROI of this model and cost-efficiency. 
Fortunately, online communication and project management tools allow businesses to have a similar level of control over the process as with an in-house team.
A Win-win Approach
When do you need services of the dedicated development?
When it is a long term project that needs continuous updates and improvements.
When the scope changes and technical requirements are unclear.
When internal developers have no time to carry out the project or have no required expertise in specific areas.
When the company is on a tight budget and is not cost-effective paying high local salaries.
When the company doesn't want to waste time on employee hiring and personnel management.
When the project needs to be scaled on time.
Practice shows that the dedicated teams are useful for complex long-term projects (6 months or longer).
Dos & Don'ts
Hiring a dedicated team of software engineers can be a huge benefit for the business. It allows saving on software development costs and time to market for their product while enjoying the full transparency of the development process and real-time communication. But, the Dos & Don'ts of this approach should be chosen for each separate case. As for the drawbacks of choosing this model, there indeed is a couple, but have to consider.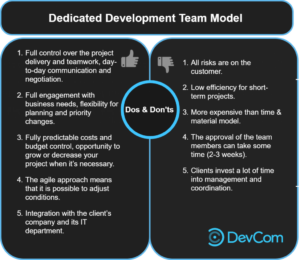 The Pricing System
The dedicated model has a transparent pricing system: every month the client pays a fixed sum of money, which depends on the size and composition of the team, their experience, skills, and level. The price includes each team member's monthly salary + fee that comprises overhead, administrative and infrastructure expenses.
The total cost of the project depends on the scope of work and it's duration.
The average hourly rate for software development in Ukraine is within the $25–50.  Nevertheless,  developer salaries (in Ukraine as well as in any other part of the world) differ widely depending on the candidates' years of experience, tech stack, seniority level, and the language of programming.
Two-Pizza Team Rule
The idea of a "two-pizza team" a phrase used by Jeff Bezos, founder of Amazon, and it's become something of a mantra in the IT world: If you can't feed a team with two pizzas, it's too large.
Bezos's two-pizza rule works for DevCom. A team is the most valuable asset like a group of people working on one general idea of the product. So, a growth team should be 4-10 teammates.
There are three priority components of a successful offshore Two-Pizza Team:
Developers  (Team Lead/Senior/Middle/Junior) – they are the ones who write and launch the code of the software or application.

UI/UX designer – create stunning visuals from the initial concept to launch.

QA – perform system, functional, data, integration, user acceptance, performance, and regression testing.

DevOps engineer or  DevOps teams collaborate with software developers, system operators, and other IT staff members to manage code releases.
Optional:
The PM role is optional that can be managed, although he can play a crucial role in the entire project.

Product manager/owner – handles driving the vision, project scope that will serve customers' needs.

Project manager – is centered on bringing the product to life, the tasks involved, staying within budget, resource allocation, and deadlines, project release.
If applicable:
Business Analyst.

Senior Architect.
Depending on how well you know the development process and what your staffing needs are, you might consider three options for how your outstaff can look like: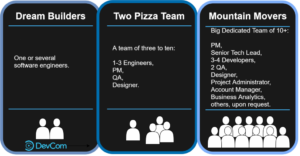 Dedicated Development Stages
At least, this is what it looks like for DevCom customers. We use a custom agile development approach that is designed to put the project in control. It reduces your risk, increases transparency between the teams, and gives you predictable project velocity. We both agree on the workload and project requirements for a specified amount of time.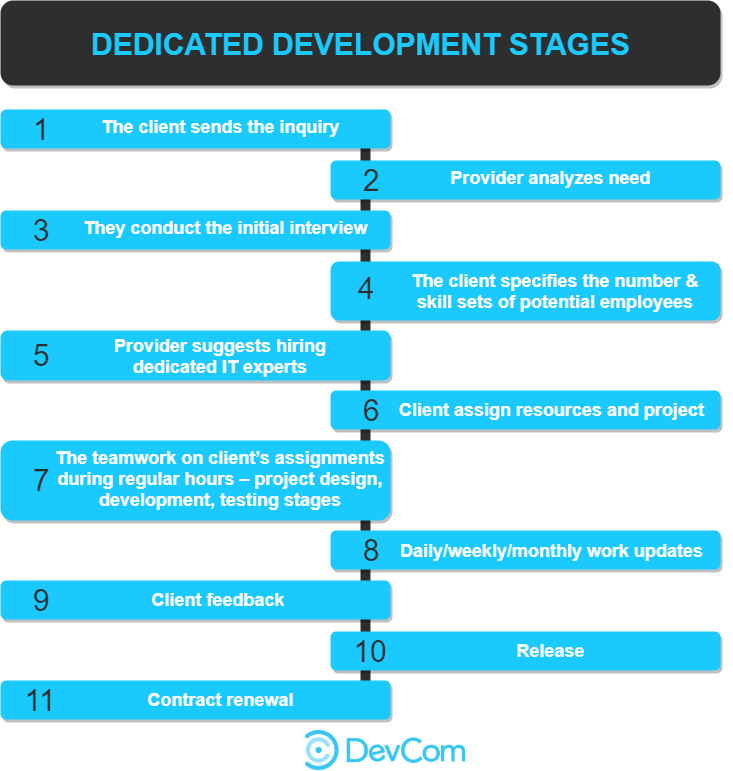 How to get the most effective collaboration
So, when you've decided on a dedicated team, there are two things that will help you to get the most out of this cooperation:
Understand the software development process. What are your and your vendor's responsibilities? Are there any specific quality expectations and acceptance criteria?
Know your team!  Know the experience and skillset your should team have. Treat and motivate your dedicated developers as your in-house employees. Effective communication is the foundation of a successful and profitable product.
Protect your intellectual property and confidential information. If outsourcing vendors cannot rely upon to protect trade secrets, then the risks of an offshoring development may outweigh its potential benefits. Hence, it is critical to review the intellectual property policy and NDA which is needed before any development work. Besides, each developer can sign a personal NDA with the Client on demand.
Document the terms and conditions of trade in the contract. Make sure your dedicated development contract gives you clear answers to the following questions: rates for development work (including detailed breakdown if different rates apply for iOS, Android, Back-end, etc…), available volume discounts, protocols for invoicing & payment, credit limits and credit periods, warranty periods.


These are only some of the key aspects your software development contract should cover. Want to learn more about how can you identify and avoid potential contract issues? Check out our recent blog post: IT Outsourcing in Ukraine: Open for Your Business
Select Your Dedicated Development Team Carefully
So now you know the pros and cons of a dedicated model for software outsourcing developers and vital moments that must be considered when on the way of choosing trusted offshore developers for your project. 
If you are still struggling with the challenges of choosing a Dedicated or Time & Material model, the DevCom Customer Success Team will be happy to give you a hand. Contact us for a free consultation, and we will help you to scale!
---