As technology continues to advance, businesses are constantly adapting in order to integrate new systems and applications into their everyday process.  According to a poll taken by McKinsey & Company, 
80 percent
 of large North American companies are either looking at or are currently using cloud services.  Not only does this mean big money for the cloud market, but it also could mean an exciting and profitable future for your business.


"Finally, we live in a world today where truly for the first time, business leaders are not afraid of technology," wrote Eric Savitz. "It wasn't even a decade ago that the majority of business leaders, if not in the IT department, would run the other direction when technology came up. We have officially reached an era where the understanding of technology, and its impact … has become a part of each and every one of our responsibilities."
Below are three ways that the cloud is reshaping the modern workplace: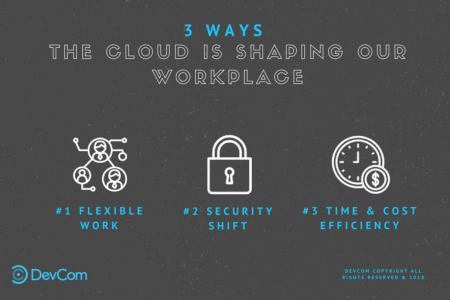 Flexible Work
People are working outside of the office in record numbers. Cloud-based platforms make telecommuting or working from home more viable options for employers. As a result, working remotely has become more and more prominent over the last decade. A Gallup survey of over 15,000 adults revealed that 43 percent of Americans say they spend at least some time working remotely. That percentage has steadily increased since 2012.
Not only are you able to access work information from any remote location, but you're still able to communicate with co-workers via cloud-based tools and apps. Whether it be a live video conference or day-to-day text chat, there are many cloud-based platforms that allow remote work to remain just as productive and collaborative as working in the office.
Lastly, the ability of employees to work from home or have flexible work hours can be a morale booster and valuable company perk. For example, you no longer have to schedule your home life around a 9-to-5 work schedule. Instead, you and your employer set work hours that adjust based on your home life. Flexibility reduces work restrictions that parents feel when caring for their children. It's this level of flexibility that allows workers to create more efficiently and work on the go. In the long run, this increases job retention rates and productivity.
Security Shift
Without the cloud, a company's information must be stored on local servers and computer hard drives. Not only has the cloud given companies the ability to store their information and data off-site, it maintains a much higher level of security, as well as accessibility.
The global cloud security market size is expected to reach $12.63 billion by 2024. According to a new report by Grand View Research, Inc., a growing number of targeted cyber attacks and increasing investments in cloud infrastructure are anticipated to trigger the growth of the market.
Cloud platforms allow companies to safely store their data with much less risk of it being compromised to outside attack. AI technology within cloud platforms allows them to "autopatch". These systems can scan themselves for vulnerabilities and instantly fix themselves, preventing data breaches 24 hours a day.
Time & Cost
Investing in cloud computing is not an investment in hardware. Instead of the overall cost is based on Gigabytes of RAM, storage space, and processing power required to run your business. In addition, the costs of electricity, repair, security, upgrades, etc. are typically bundled in the price of the resources required. Moreover, since your cloud provider is maintaining these systems on a massive scale, with each data center hosting and processing thousands of clients' data, efficiency is maximized. With cloud services, management, maintenance, and operating costs included in one monthly fee, and since you are paying for the processing power used instead of a server's capacity, you will save money over time.
Cloud technology has not only changed the way information is stored, but it has certainly helped business practices evolve into a more streamlined process. Formerly, limited access to information required employees to print out documents, then distribute that information to others who needed that data. Documents were copied and pasted and emailed, then the revised copy underwent the same lengthy process. Cloud technology eliminates those restrictions. Information is centralized and easily accessible by all involved. This invites collaboration among employees and encourages cross-departmental cooperation as well.
As cloud technology becomes more popular, the workplace as we know it will continue to shift and change. There are many more developments coming to be excited about when it comes to cloud technology. Business owners will continue to see growth, profitability, productivity, and innovation as time goes on.
Keep in mind. DevCom has solid experience with integrating cloud systems into work environments (custom software development). In case you need the following services, Contact Us.
For more articles related to tech in workplaces, you can read a blog post from Enlightened Digital titled 3 Steps to Outpace Technology and Further Your Career.
---