Lviv – a Budding Destination For IT Outsourcing
Lviv is probably the first city you think of when you hear the term "outsourcing in Ukraine," and with good reason. IT outsourcing to Lviv has shown high growth in recent years, making it an ideal location for US, EU, and UK employers interested in software development outsourcing to Lviv.
Nowadays, Lviv can be considered the IT capital of Ukraine without exaggeration. It is the only Ukrainian city to have officially declared the tech industry as one of the key elements in the city's economic strategy. Over the past years, Lviv has become home to more than 200 tech companies and 25,000 tech workers. Over 4,000 graduates join Lviv's tech industry every year. The major city's tech sector makes up 14.4% of GRP ($280–$300M).
Lviv offers attractive conditions for IT outsourcing/IT outstaffing no matter what destination increases. A large number of Ukrainian and foreign companies open their offices here every year and demonstrate steady growth and high profits.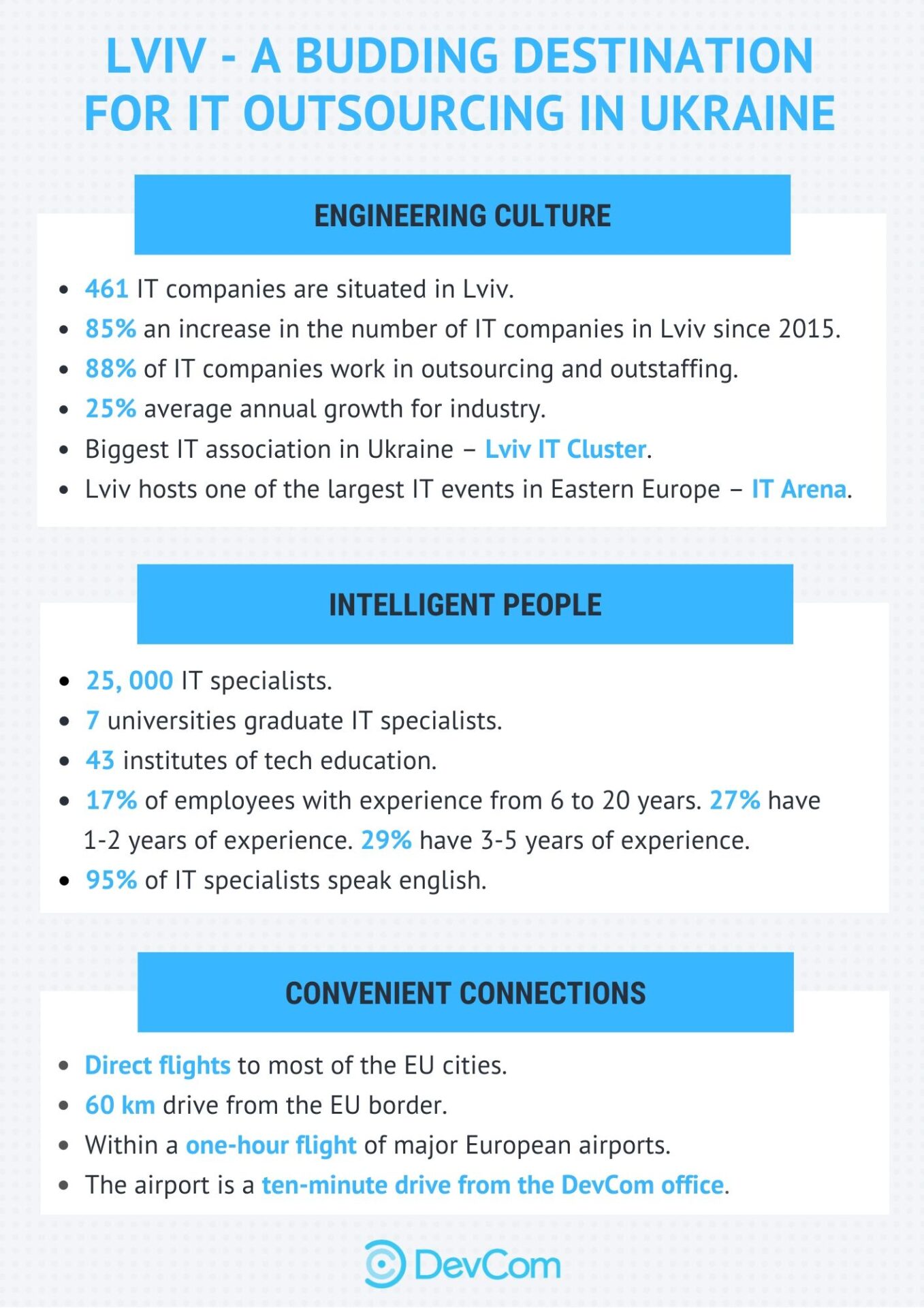 Top 6 Reasons Why IT Outsourcing to Lviv is Beneficial For Global Companies
Reason #1. Tech Community in Lviv
The tech community in Lviv is very active. The biggest IT association in Ukraine – Lviv IT Cluster , gathers around and unites technology specialists, companies, educational institutions, and authorities to develop the local tech environment. The number of smaller, specialized communities is even more impressive: CEOs, QAs, data scientists, BAs, .Net engineers, UX designers, and others hold regular meetups, seminars, or conferences.

On top of that, Lviv hosts one of the most significant European tech industry events, the IT ARENA, which brings together entrepreneurs, startups, software developers, designers, PMs, and business analysts to discuss new technology trends.
Reason #2. Skilled Tech Talents
Tech talent is the first and the most important thing you expect when outsourcing software development. What does Lviv have to offer?

According to IT Research 4.0, the number of IT specialists in Lviv was 25,000 in 2019, and this number is predicted to increase to 30,000 by the end of 2021. Human capital is growing due to universities, specialized course graduates, and internal migration. More than 4,000 prospective students graduate with a tech degree yearly, providing the industry with a constant inflow of fresh talent.
95% of the IT pool of professionals speak English at least at a conversational level, and almost half of them are fluent, which removes the language barriers with your IT outsourcing team, adding up to their excellent communication skills.
Local specialists have a flexible attitude towards work, a high level of education, various educational programs, and creative thinking. Ukrainian engineers are diligent workers, have a good work ethic, have personal involvement in projects, and are open to challenges. Thus, there is a good chance that American and European customers will get along well with IT experts in Lviv.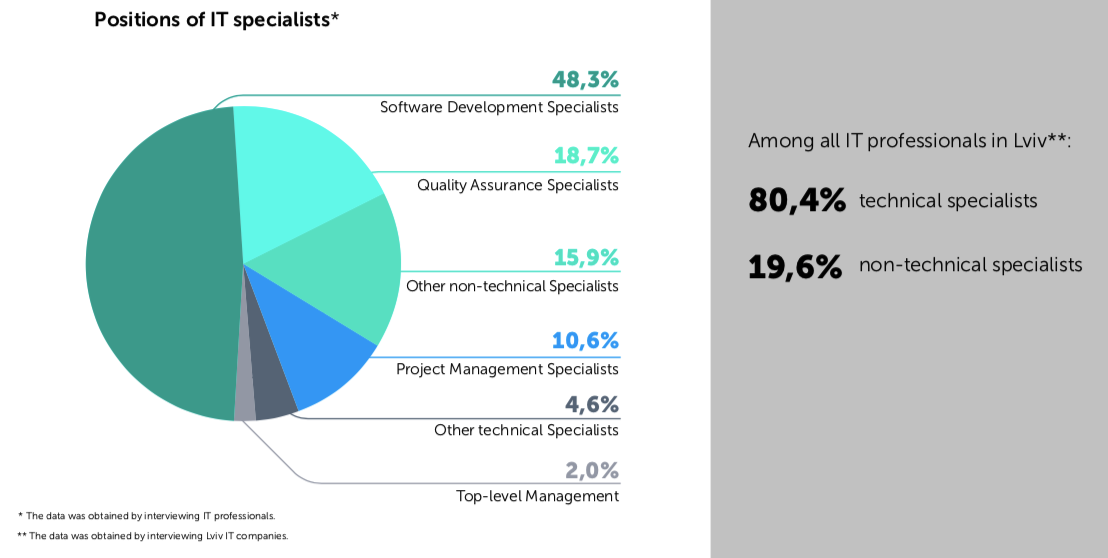 Reason #3. Mature Technologies
Since the demand for IT outsourcing in Lviv continually grows every year, the industry offers thousands of skilled developers of various technologies. The most popular programming languages are JavaScript (71.0%), C++ (47.8%), Java (47.5%), C# (44.7%), and Python (43.4%).
Web developers in Lviv deal with both Back and Front End Web Development. Database administration (DBA) – MySQL and SQL server technologies are greatly required for a lot of positions. With the growing popularity of mobile applications, iOS and Android developers are in high demand these days. It is not a problem to find developers for both platforms.
Cloud and DevOps services are now at their peak. DevOps practitioners are among the highest-paid people in IT. Many businesses are implementing a DevOps culture by outsourcing DevOps jobs to Lviv and benefit from a good quality-price ratio and lots of available skilled professionals.
IT companies prefer to improve all the time and apply only the best technologies. Some of them sharply decrease in usage, while others can be completely overturned. So here, you will find talented IT professionals matching your specific needs.
Reason #4. Trusted IT Companies in Lviv
Lviv became home to around 460 IT companies. More than 90% of IT companies in Lviv provide software development outsourcing and outstaffing services: 88.4% outsourcing and 3.2% outstaffing. The remaining 10% consists of local and international companies, including Gameloft and TemplateMonster.
Lviv companies are divided into large, medium, small, and micro-companies:
⇒

7 large companies: 400+ employees,

⇒

67 are medium-sized: 51-250 employees,

⇒

243 small companies: 11-50 employees,

⇒

142 micro: less than 10 employees.
B2B research, ratings, and reviews sites like Clutch.co and GoodFirms will help you to identify leading IT service providers. They evaluate companies based on over a dozen quantitative and qualitative factors, including client reviews, company experience, client lists, industry recognition, and market presence. The credible reviews give prospective clients a reliable place to go to find agencies to work with.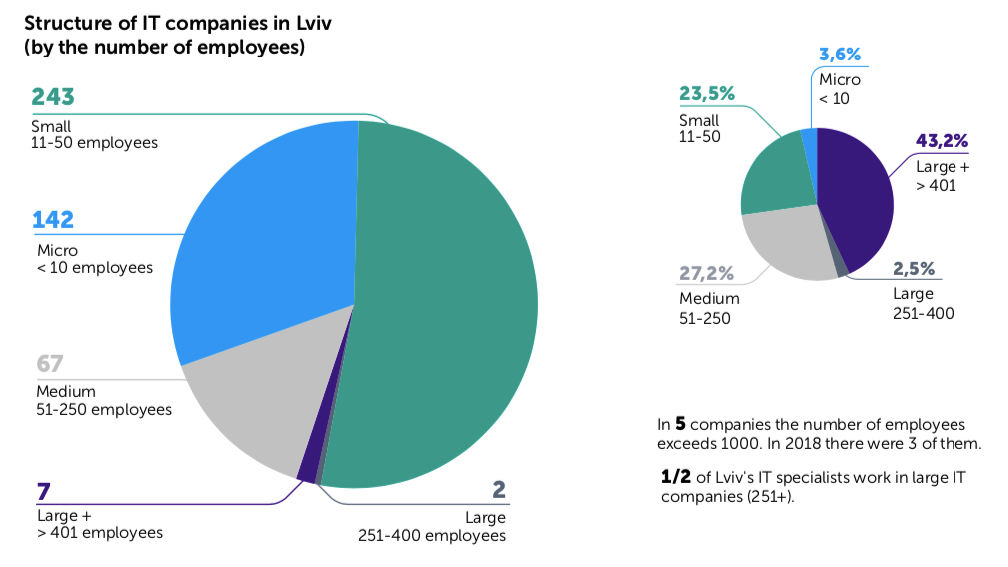 Source: IT Research 4.0
Reason #5. Competitive Rates for IT Outsourcing in Lviv
The Lviv IT market is economically feasible for a tech business, so project software development here will cost you less than in other locations. On average, you can save on office rental and lower salary costs for employees from 30% up to 60% without compromising quality.

The rates for outsourcing software development in Lviv vary from $25 to $50 per hour, depending on the developer's years of experience, tech stack, seniority level, and programming language.
With the same budget, you can hire more qualified IT experts in Lviv than you would in Krakow, Berlin, London, or any city in North America. At the same time, you would not compromise on the quality of service since Ukrainian developers have gained a reputation for being reliable and highly-competent specialists.

Reason #6. Perfect Location for IT Outsourcing
Lviv lies roughly in the center of Europe. It is one of the westernmost big cities in Ukraine, and its proximity to Western Europe is less than 80 kilometers from the European Union border. Besides, Lviv is situated far away from the political conflict zone.
An important factor is its geographical whereabouts in the Eastern European time zone. Ukraine is seven hours ahead of the US east coast and 1-2 hours ahead of European countries. This provides certain advantages since the working day for developers in Ukraine begins earlier, and they will have progress to report before the working day starts in the USA or EU. So you get productive cooperation with no backlogs and late Skyping.
For current times anywhere in the world, you can use The Time Zone Converter.
Lviv has significantly improved air connectivity with other countries. New airlines and low coasters entered the Lviv market, making logistics easier and more affordable in terms of both intercity and international flight connection.
Non-stop flights from Lviv Airport serve the following international destinations: Austria, Belarus, Germany, Denmark, Israel, Italy, Poland, Spain, Turkey, UK. You can fly from Lviv to London – in 2h 45m, from Lviv to Berlin in 1h 40m, from Lviv to Oslo – in 4 hours, and from Lviv to New York – in 12 hours.
Check out the Skyscanner Airline page for a full list of carriers.
The average price for a Four- or Five-star hotel in Lviv city center ranges from $40 to $200 per night (Booking.com). Whatever you choose, try to book in advance, as hotels in Lviv are filling up quite fast.
---
Additional Reading: IT Outsourcing to Eastern Europe in 2023: Benefits for USA
---
Lviv IT companies
Lviv is simply bursting with IT companies. There are offices of over 200 IT companies in Lviv, and there are more than 20,000 IT specialists in the industry. What makes Lviv's IT industry special is an IT Cluster and Lviv Outsourcing Forum in the technology-friendly city. Moreover, there are several technical universities with innovative areas of training.
If we start listing the best companies in this European city, we can create a very long read. Over 90% of companies provide outsourcing services, and the development of industry is still progressive.
There are Lviv IT companies with over 400 employees, like:
⇒

SoftServe (about 3000 specialists in Lviv);

⇒

EPAM (over 1000 specialists in Lviv);

⇒

ELEKS (more than 800 specialists in Lviv);

⇒

GlobalLogic (over 650 specialists in Lviv);

⇒

N-iX (about 500 specialists in Lviv);

⇒

Intellias (almost 500 specialists in Lviv).
There are other Lviv outsourcing companies that have 150-300 employees:
⇒

Symphony Solutions

⇒

DevCom

⇒

Edvantis Software

⇒

Perfectial

⇒

ABTO Software

⇒

CoreValue

⇒

Conscensia

⇒

Skelia

⇒

Lohika, etc.
The rapid business development of the Lviv IT industry is also an advantage. Its turnover is 14.4% of the city's GRP, and the projected annual growth is 20%. This is already about prospects. Moreover, Lviv's IT industry has every chance to become a city-building industry that significantly affects the city's economy. And Lviv itself has every chance to become the largest IT hub of Ukraine and the whole of Eastern Europe. Sometimes people already give such a characteristic to Lviv because only here there is a powerful consolidation of people in IT development so you are always welcome to outsource to Lviv.
---
Additional Reading: Risks and Legal Aspects of IT Outsourcing to Ukraine
---
Conclusion
Lviv is a great place to turn for help when it comes to IT. The progress in the IT sphere is extremely fast here. Companies can seek in their efforts to match up to the ever-evolving technology. Ukraine has professional IT experts who offer nothing less than high-quality IT services and solutions worth investing in. That is why more and more businesses cooperate with software development companies based in Ukraine, particularly in Lviv.
If you decide to apply for software outsourcing in Lviv, you are welcome to contact us. During the last two decades, DevCom Lviv IT company has been at the forefront of technology innovations. DevCom provides a full range of IT consulting and product development services, from the early project phases, like business and system requirements gathering and proof of concept verification, to its final implementation. It specializes in the areas of Cloud/DevOps, Web/Mobile/Desktop development, SaaS, BI/Analytics, QA, and UI/UX, with a focus on five major segments of the market — healthcare, logistics, fintech, eCommerce, retail, non-profits, others.

If you need any advice or have some questions, you are welcome to contact our highly-experienced team. You can send an email to welcome@devcom.com or, fill in the form on our contact page.


---