Why Remote Development Will Be the New Normal After Corona Crisis?
Digital transformations require qualified staff.  The traditional approach is to build an in-house team of software developers. However, it is not easy to find and get the professionals you need. And if you really need it? Remote work – IT outsourcing or IT outstaffing tech pros seems like the solution for every geographically-independent business. 
COVID-19 compels business en masse to adopt remote work. This seems, after the corona crisis, remote working will become the new normal. 
Remote development is an opportunity for companies to change their way of working and reap the benefits over the medium to long term. Now is the time to prepare for this 'new normal'. Think of less office space, less commuting, an optimized number of employees, and cut expenses. 
Both software outsourcing and outstaffing will more than ever become an integral part of the way global business works. So, why should an employer pay a New York salary if it is possible to pay the Ukrainian wage and get the job done with the same results? Business leaders should already think about the potential of investing in remote development, that will have far-reaching consequences on the way we work in the future.
74% of European

organizations

planning to outsource at the same rate.

89% of European organizations are satisfied with their IT service provider(s).
Business benefits of having a remote development team:
First of all, and what is a matter – companies can reduce costs on infrastructure and salaries significantly by IT outsourcing/ IT outstaffing software development services.

The overhead costs associated with occupying corporate real estate such as rents, mortgages and security deposits are virtually nonexistent. 

The remote model allows tapping into the best talent globally.

Access to the newest programming languages and technologies.

Remote teams are incredibly motivated and encouraged to work hard to maintain flexibility.

Availability around the clock (e.g.

DevOps

).

High quality of end product delivery. 

Freeing internal resources for other purposes.
You can outsource/outstaff anything that requires expertise your company doesn't have.
The most frequently outsourced IT services are:
The major sectors for IT outsourcing / outstaffing are:  IT and Communication, Medical and Health Services, Finance, Logistics and Transportation, Entertainment, eCommerce, and Retail are some of the sectors where the majority of remote works get done.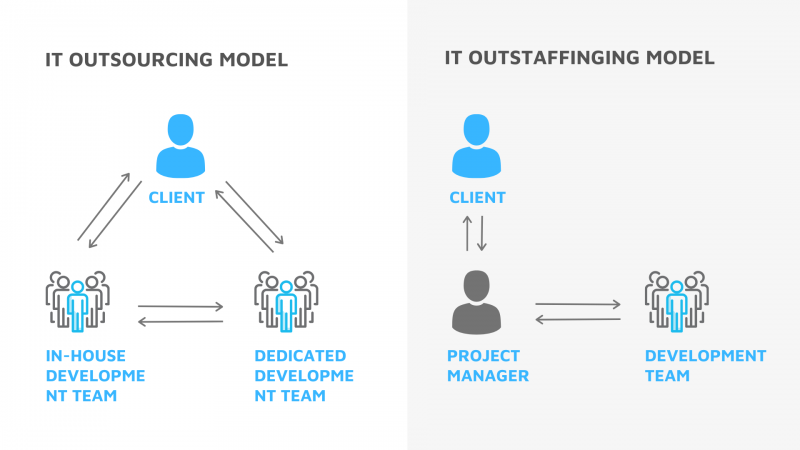 While IT outsourcing and outstaffing are often considered to be the same, there is a significant difference. Let's look closer to the existing software development models.
What is IT Outsourcing?
Software development outsourcing mainly describes a situation in which an organization chooses to hire a third-party vendor to handle project development from the ground and up. The only things organization should provide – is the project idea, requirements, and budget. 
In-house development requires regular salaries, workspaces, and procurement; in turn, outsourcing becomes a cost-effective solution. 
Software outsourcing can be a great advantage for startups. It can help them grow their business by allowing them to focus more on operations and business development rather than worrying about the software, which can be easily completed through outsourcing. 
Depending on the place of outsourced work, there are several types of IT outsourcing:
Moving business/ software development overseas

– results in lower costs because of the more favorable economic situation.

Onshore

– remote work with teams that reside in the same home country as the client partner.

Offshoring

– having the outsourced business functions done in another country. Offshore software development companies operate virtually and remotely. 

Nearshoring

– work with teams in a similar time zone, close-border country. Nearshore software development companies delegate operations to teams abroad.

Homeshoring

– remote employees (freelancers) work from home.
IT outsourcing pros and cons
Pros. Software outsourcing is a cost-effective solution, and it's the most obvious pros of it. It takes a vast bulk of the work off your hands, as the outsourcing company will handle full-cycle development of the project. They will form the development team, carry out project management, and implement quality control.
Cons. If you delegate some of your business tasks or processes to an external service provider, you may face some shortcomings like different business philosophies and morale, non-absolute control over an outsourced project, the difference in time-zones. This model requires that you define the full specifications of your project at the beginning. Still, with extra services such as project management, business analysis, and quality assurance, you can have some unpredictable expenses. It can also delay project completion.
Project-based outsourcing is recommended for companies who:
have a small, short-term project with the clear requirements set in stone;

can't control the project progress directly.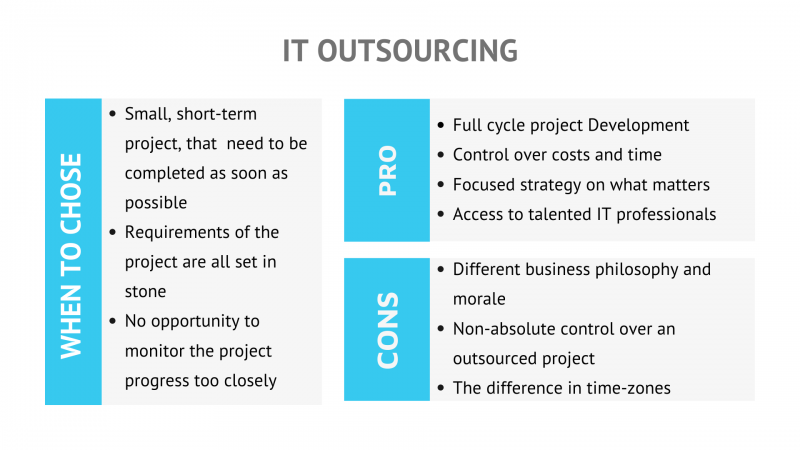 What is IT Outstaffing?
Software outstaffing is an extension of the in-house development team like they are a team next door. In outstaffing, you hire individuals from outside your organization to do the work under your monitoring. Most of the time, businesses follow this structure to hire faster and effective workers outside their territory.
IT outstaffing fits startups and enterprises that already have an in-house development team. Still, at the same time, they need extra resources (developers, designers, QAs, DevOps, architects, etc.) to complete tasks they can't handle themselves. In this model, the provider is responsible for people management, low-level tasks, and process quality. 
In most cases, the team works together with the in-house programmers. The client can control remote programmers' workflow and productivity, give them tasks. By performing work under the outstaffing contract, employees are subject to the customer's employment schedule, usually, have their jobs in the customer's premises and job descriptions. 
There are several types of IT outstaffing:
Leasing staff

– long term projects for a period of more than three months.

Temporary staffing

– a temporary project of 1 week to 3 months periods. 
IT outstaffing pros and cons
Pros. Hiring dedicated developers give you full control over the project. It also gives you more flexibility with the costs. It does not require you to define the complete set of project requirements at the beginning; you can add or remove developers as your needs change.
Cons. Outstaffing requires constant communication and collaboration with dedicated developers, so when hiring from a distant country, time zone differences and language barriers may pose challenges. 
The outstaffing model is recommended for clients who:
have a large or long-term project they want to work on;

prefer to control the project progress directly;

need flexibility in changing project requirements and extending their development teams.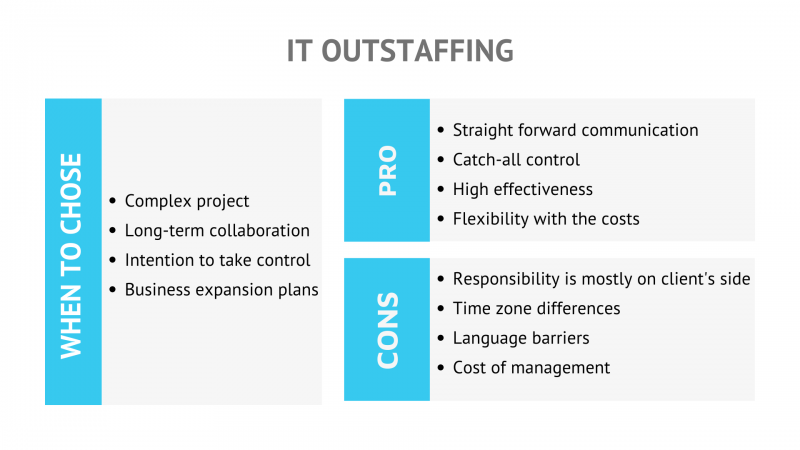 Dedicated Development Team in Outstaffing: Able to Do Everything
The term "dedicated development" really refers to a development team model. 
When having an in-house development team isn't feasible, hiring a dedicated team of developers from outside the company is the next best option.
This is a widespread practice in the IT industry to reduce the pricing and risk associated with increasing numbers of employees. With the dedicated team model, you hire remote developers who will dedicate 100% of their time to your project but will remain in the dedicated team provider's office. They may form the company's entire development team, or they may collaborate with your in-house developers. In other words, a dedicated team is hired from scratch specifically for the client's project and is not engaged in any other projects.
This model is a type of IT staff augmentation or IT outstaffing.
When do you need services of the dedicated development?
When it is a long term project that needs continuous updates and improvements.

When the scope changes and technical requirements are unclear.

When internal developers have no time to carry out the project or have no required expertise in specific areas.

When the company is on a tight budget and is not cost-effective paying high local salaries.

When the company doesn't want to waste time on employee hiring and personnel management.

When the project needs to be scaled on time.
Dedicated development pros and cons
Pros. Hiring a dedicated team of software engineers can be a huge benefit for the business. It allows saving on software development costs and time to market for their product while enjoying the full transparency of the development process and real-time communication. The company has complete control over the project delivery and teamwork, engagement with business needs, flexibility for planning, and priority changes. The cost is entirely predictable. There is an opportunity to grow or decrease project when it's necessary.
Cons. All risks are on the customer. Low efficiency for short-term projects. The approach of the team members can take some time (2-3 weeks).
---
Related Post: Dedicated Development Team: a Winning Approach to Outsourcing
---
Choose DevCom as Your Partner
Remote development can help businesses both to survive the corona crisis and emerge stronger in the post-crisis time. Finding a reliable partner can help you gain substantial competitive advantages both in terms of short-term and long-term strategies.
So now, based on this fuller picture representing variants of remote software development in our guide, as well as their pros and cons, you can make a thoughtful decision on choosing a particular and trusted offshore development for your project. 
If you are still struggling with the challenges of choosing a remote development vendor, we at DevCom will do our best to turn up with the most reasonable IT outsourcing or outstaffing solution for your business requirements.
DevCom has 20 years of experience in remote work and management of remote teams based in Ukraine for clients in the USA, Canada, the UK, Western Europe, Australia, and the Middle East under an outsourcing and outstaffing model. We know exactly how to ensure your business can continue to function optimally.
Explore how we work and deliver Agile software development teams, or drop us a line, and we'll be more than glad to discuss your project. 
---
Written by: Liza Hazevych, Halyna Vilchynska.