Productivity Tools for Remote Development Teams
Every project is different – different goals, customers, teams, stakeholders, and businesses. Communication during a software development project is one of the keys to success. The right approach to the selection of ideal productivity tools for remote teams – that's half the battle.
We, at DevCom, pair different techniques, project management, and communication tools for IT teams to drive development forward. For us, it's all about getting to working software  as soon as we can. We use different levels of fidelity to facilitate communication and keep momentum.
As soon as possible, we try to establish a cadence for how we work with clients. We adapt as necessary, educate along the way, and incorporate new processes. Even with a lot going on, we bring an air of persistence and stability.
Project management and communication tools can be tricky, and their setup may vary from one project to another. Therefore how the Jira board will be set up for each project is very important, even if the client had some prior experience with those tools.
To make sure development work follows clients' vision, the clients must be engaged. We mention our clients in tickets, engage them in backlog creation, and make them responsible for moving a task from "acceptance testing" to "done" as a final step before calling it ready.
The list below is made of some compelling productivity tools for remote teams that can help successfully cross the distributed challenge. The list isn't ranked. It's just a lay-down of a toolset that we use at DevCom to communicate with clients and manage project outsourcing development that can empower teams to be productive while working remotely.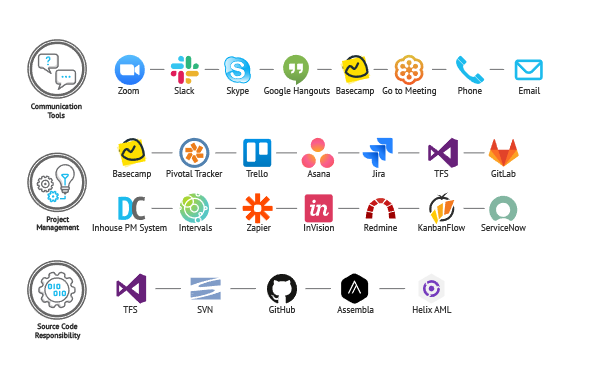 Communication Tools for Remote Development Teams
Zoom is the leader in modern enterprise video communications, with an easy, reliable cloud platform for video and audio conferencing, chat, and webinars across mobile, desktop, and room systems. Zoom Rooms is the original software-based conference room solution used around the world in board, conference, huddle, and training rooms, as well as executive offices and classrooms. 
Top features: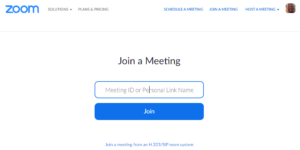 ⇒ 

Host up to 1,000 video

participants & 10,000 viewers.

⇒ 

24 hrs meeting duration limit.

⇒ 

Video/Web/Group conferencing.

⇒ 

In-conference chat.

⇒ 

Screen-sharing.

⇒ 

Call recording.

⇒ 

Unlimited Cloud Storage.

⇒ 

Zoom Phone.

⇒ 

Conference Room Solutions.

⇒ 

Webinars & Events.
Best for: Zoom is an ideal solution for remote and in-house teams that require larger conferences, webinars, or online meetings.
Advantages: With Zoom, you can create custom meeting links, host webinars, and hold larger conferences.
Disadvantages:  Users say that there are notable glitches in recording and playback, as well as occasional low video and audio quality.
Cost: Zoom offers four plans: Basic (Free), Pro ($14.99/host/month), Business ($19.99/host/month), and Enterprise ($19.99/host/month). 
Skype specializes in providing video chat and voice calls over the Internet. Skype allows video conference calls and offers instant messaging services. Users may transmit text, video, audio, and images. 
Top features: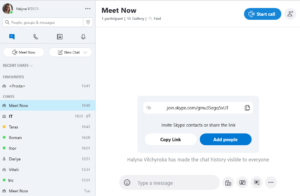 ⇒ 

Host up to 50 video participants. 

⇒ 

Instant messaging and chat history. 

⇒ 

Calls between Skype and landline / mobile phone numbers.

⇒ 

Voicemail.

⇒ 

Video calling and screen

sharing.

⇒ 

SMS text messaging.

⇒ 

Wireless hotspot network access.

⇒ 

Application features.
Best for: Individuals and businesses to make free video and voice one-to-one and group calls, send instant messages, and share files with others on mobile, computer, or tablet.
Advantages: Skype allows you to make both video and voice calls to your personal and business contacts. 
Disadvantages:  If your connection is slow or intermittent, you might have trouble placing or staying connected to a request.
Cost: Skype is usually free; however, if you want to use Skype to call someone's cell phone, you can use a subscription that starts at $2.99 a month.
Slack is a chat room for the whole company, designed to replace email and other chats as a primary method of communication and sharing. Teams use it as a virtual HQ, and where they primarily share files and integrate tools. Its workspaces allow  to organise conversations by channels for group discussions and allow for private messages to share information, files, and more all in one place.
Top features: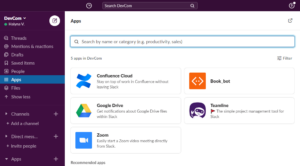 ⇒ 

Unlimited message archive.

⇒ 

Unlimited apps.

⇒ 

Group video calls with screen sharing.

⇒ 

Guest accounts & shared channels.

⇒ 

File-sharing.

⇒ 

Managing and tracking documents.

⇒ 

Advanced search modifiers.

⇒ 

SAML-based single sign-on (SSO).

⇒ 

Unlimited workspaces.

⇒ 

Support data loss prevention (DLP), e-Discovery, and offline backup providers.

⇒ 

HIPAA-compliant message and file collaboration.
Best for:  Organizations of all sizes and those in highly regulated industries seeking advanced administration tools, and tools to communicate both as a group and in personal one-on-one discussions. 
Advantages: Intuitive interface. Integrations with Zoom, Github, Google Drive, etc. Teams can also create channels for communication.
Disadvantages: Slack is designed for one-line-at-a time communications, so users get overloaded with messages, experience notification fatigue, and essential context is lost.
Cost: You can use Slack with a limited number of features for free, but if you need more, it offers three paid plans Standard, Plus, and Enterprise Grid. Slack Standard plan – $6.67 USD per active user per month billed annually. Or, $8 USD per active user per month, billed monthly.
Google Meet (previously known as Google Hangouts Meet) is an online meeting and group video conferencing solution that Google offers. It is available to all G Suite users. 
Top features: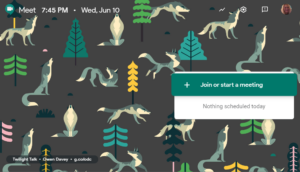 ⇒ 

Up to 250 participants.

⇒ 

Unique meeting URLs.

⇒ 

Live captioning during meetings.

⇒ 

Compatible across devices.

⇒ 

Video and audio preview screen.

⇒ 

Adjustable layouts and screen settings.

⇒ 

Controls for meeting

hosts.

⇒ 

Screen sharing with participants.

⇒ 

Messaging with participants.

⇒ 

Advanced screen sharing options, including individual Chrome tabs – although some of these controls. 

⇒ 

Supports video up to 720p, and anyone with a Google account can join a Google Meet.

⇒ 

An unlimited number of meetings.
Best for: Businesses of all sizes and organizations that are already using Gmail and other Google Apps.
Advantages: Access to the full complement of G Suite programs. Google Meet integrates with most Google apps; you can access it right in your Gmail inbox. 
Disadvantages: You can only access Meet via the Google Chrome web browser.
Cost: Google Meet is now free for all users. It is available to G Suite users, starting a $6 a month per user for Basic, $12 a month for Business, or /$25 a month for Enterprise. Until 30 September 2020, Google Meet is free to all Google Account holders for those not using G Suite.
Google Hangouts is a unified communications service that allows members to initiate and participate in text, voice, or video chats, either one-on-one or in a group.
Top features: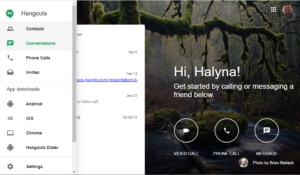 ⇒ 

Group chats for up to 150 people.

⇒ 

Instant messaging.

⇒ 

Voice calls.

⇒ 

HD video calls.

⇒ 

HD group conferencing.

⇒ 

Auto screen focus.

⇒ 

Intelligent muting.

⇒ 

Compatibility with multiple computing devices.

⇒ 

Built-in screen sharing.

⇒ 

Google application integration.
Best for: Organizations and individuals who use G Suite services.
Advantages: Hangouts are built into Gmail, and mobile Hangouts apps are available for iOS and Android devices.
Disadvantages: Required Google Account. No Message Track. Cannot Set a Status.
Cost: Hangouts is free in the U.S. and Canada and offers low international rates, so you can make voice calls, send text messages, and even have group video chats from your mobile device or computer without paying a dime.
Phone and Messaging Apps
Per client request, and for convenience, remote teams can use Phone / Viber / What's Up / Telegram / WeChat, and many other instant messengers available now which allow to communicate with teams with text, phone call, video, sharing of files, in groups or not and keep contact with them internationally. 
Advantages: Mobility, flexibility, convenience.
Disadvantages: Data loses, security, document organization.
Cost: Free in most cases.
Project Management Tools for Remote Development Teams
The #1 software development tool used by agile teams for bug tracking, issue tracking, and project management. JIRA is mainly used to organise, and prioritise the bugs, newly added features, improvements for certain software releases. Projects are subdivided into issues and issues can be of multiple types such as bug, new feature, improvement, and documentation tasks.
Top features:
⇒ 

Scrum boards.

⇒ 

Kanban boards.

⇒ 

Roadmaps.

⇒ 

Agile reporting.

⇒ 

Customizable workflows.

⇒ 

Unlimited custom fields.

⇒ 

Bugs and defect management.

⇒ 

Seamless source and issue integration.

⇒ 

Search and filtering.

⇒ 

Customizable dashboards and wallboards.

⇒ 

Advanced security and administration.
Best for: Agile teams looking to capture & organize issues, assign work & track team activity. The software is designed so Scrum, Kanban, & hybrid models are all successful.
Advantages:  It's easy to plan and track the project works using the interactive dashboards. A single tool for project management needs, be it planning, tracking, or releasing the software applications.
Disadvantages: Onboarding to JIRA has always been a pain. The information architecture is all over the place, UX is a reall challenge until you settle in and get accustomed to its specific logic of doing things.
Cost: Free plan for Jira Software for up to 10 users, 2GB of storage, and Community Support. A flat fee of $10 per month for up to 10 users and $3.50 per month, per user for 11 to 100 users, if deploying in the cloud. Its on-premise version costs a one-time payment of $100 for up to 10 users.
Basecamp is a real-time communication tool that helps development teams stay on the same page; It's flexible, reasonably priced, and integrates with a wide variety of other services. It's less for traditional project management tasks (e.g., resource planning and long-term scheduling).
Top features:
⇒ 

Unlimited projects &

users & clients.

⇒ 

500GB storage space.

⇒ 

Company HQ.

⇒ 

Team projects.

⇒ 

Advanced client access.

⇒ 

Project templates.

⇒ 

Realtime chat.

⇒ 

To-do lists.

⇒ 

Schedules.

⇒ 

File storage.
Best for: Small businesses and groups inside large organizations.
Advantages: Basecamp puts everything you need to get work done in one place. It's the calm, organised way to manage projects, work with clients.
Disadvantages: It does not have features like the creation of Gantt charts and task interdependencies. There are not many accounting-related features. There is always some security issue with storing data on the cloud.
Cost: For businesses, Basecamp costs a flat, fixed fee of $99/month or $999/year. This includes unlimited users and unlimited projects. For non-profits and charities, a 10% discount is offered. 
Confluence is Atlasssian's content collaboration tool used to help teams collaborate and share knowledge and docs efficiently. In Confluence, content is created and organized using spaces, pages, and blogs.
Confluence's collaboration tools allow users to write, edit, comment, and get work done together within the Confluence interface. Users can display a variety of content types thanks to Confluence's rich text editor, and an array of accepted attachment file types.
Permissions and Restrictions allow all users to control the visibility of Confluence content at the Space or Page level, so only the right people have access to the right information. Confluence has also been designed to prevent duplicates, and display only the latest information.
Top features:
⇒ 

OnDemand or hosted.

⇒ 

Drag and drop editing.

⇒ 

Team collaboration.

⇒ 

JIRA integration.

⇒ 

Custom layouts.

⇒ 

Agile development.

⇒ 

Calendars.

⇒ 

Unlimited spaces.

⇒ 

Task notifications.
Best for: All kinds of functional departments of any size, from technical teams and project management groups to marketing, HR, legal, and finance. All teams get work done with Confluence.
Disadvantages:  Migrations of data can be difficult. Backup service breaks so you're better off manually backing up. The log-analyzer can sometimes treat symptoms, but may not see the root cause of a problem with the system.
Cost: Free plan for Confluence for up to 10 users, 2GB of storage, and Community Support.  The Standard for up to 5,000 users – $5. Premium – $10. 
Trello is a collaboration tool that organizes projects into boards. In one glance, Trello tells you what's being worked on, who's working on what, and where something is in a process. Trello's strength is its flexibility, that allows it to be used by a wide range of people, from teams to individuals. 
Top features:
⇒ 

Detailed & quick overviews of front/back cards.

⇒ 

Easy, drag-and-drop editing.

⇒ 

In-line editing.

⇒ 

An easy organization with labeling, tags, and comments.

⇒ 

Progress meter checklist.

⇒ 

Card records archive.

⇒ 

Easy upload (local devices, Dropbox, Google Drive, and Box).

⇒ 

File attachment.
Best for: People who have smaller projects and teams can definitely benefit from Trello.
Advantages: Trello uses real-time. Members can work on the projects without causing any disruption to the updates. It features the Kanban system.
Disadvantages: Trello allows attachments but users of the free version only have an allowance of up to 10MB per upload which is quite small. 
Cost: Free users can add one Power-Up per board and up to 10 team boards. Trello Business Class costs $9.99 per user, per month (if paid annually). Costs for the Enterprise plan are tiered and vary based on the number of users. 
Asana is a software-as-a-service designed to improve team collaboration and work management. It helps teams manage projects and tasks in one tool. Teams can create projects, assign work to teammates, specify deadlines, and communicate about tasks directly in Asana.
Asana lets you know who is doing what, by when. Communication is focused and actionable and you'll always know the status of work happening across your team. Spend less time talking about work, and more time actually getting it done.
Top features: 
⇒ 

Activity feed.

⇒ 

Add assignees, attachments, and hearts to tasks.

⇒ 

Automatic updates to email/inbox.

⇒ 

Email bridge.

⇒ 

See team members' tasks and priorities.

⇒ 

Set goals, priorities, and due dates.

⇒ 

Gantt Charts (Asana has Timeline).

⇒ 

Kanban support (Asana has boards).
Best for: Teams of all sizes, to manage team projects, processes, and tasks, stay productive, and deliver better work faster.
Advantages: Tons of integrations, projects can get complex, tasks are limiting.
Disadvantages: Tasks can only be assigned to one person. No time tracking. Limited exporting functionality.
Cost: The free version of Asana is available for teams of up to 15 people. Asana Premium costs 9,49 £ per user per month when billed annually and 11,59 £ per user per month when billed monthly. The price of Asana Business is 20,99 £ per user per month when billed annually and 25,69 £ when billed monthly.
Pivotal Tracker is a straightforward project-planning tool that helps software development teams form realistic expectations about when work might be completed based on the team's ongoing performance. Tracker visualizes your projects in the form of stories (virtual cards) moving through your workflow, encouraging you to break down projects into manageable chunks and have important conversations about deliverables and scope.  
Pivotal Tracker encourages a practical agile software development process, as pioneered by Pivotal Labs.
It's based on agile development methods, but works very well for all kinds of projects, assisting you through the whole process from the first scratch to the final release.
Top features:
⇒ 

Automated planning.

⇒ 

Drag-and-drop functionality.

⇒ 

Analytics & reports.

⇒ 

Project history.

⇒ 

Real-time collaboration.

⇒ 

Multiple teams.

⇒ 

Integrations.

⇒ 

Task management.
Best for: Software development teams, startups, and companies interested in an agile workflow.
Advantages: The main benefits of Pivotal Tracker are its total visibility rendered to users, clear lines of communications, and optimized workflows. 
Disadvantages: The Pivotal tracker doesn't support the estimation of tasks in hours as supported by JIRA.
Cost: Free 30-Day Trial! Free for Public Projects, Schools, and Nonprofits.
Intervals is simple, yet powerful time tracking and task management software with intelligent reporting to make informed decisions based on your time. Intervals is fully featured and customizable to match your business.
Top features:
⇒ 

Time tracking.

⇒ 

Task management.

⇒ 

Reports.

⇒ 

Project management.

⇒ 

Accountability.

⇒ 

Portfolio management.

⇒ 

Product road mapping.

⇒ 

Supports Agile, Scrum.

⇒ 

Testing / QA management.
Best for: Small businesses & departments of larger companies – designers, web developers, consultants, IT services, software companies, PR, marketing, SEO, SEM.
Advantages: Intuitive, extremely user-friendly project management tool. Project creation, task creation, duplication, and cost-related features are outstanding.
Disadvantages: Communication between tasks and larger milestones can be difficult and less intuitive to follow, especially if the Milestone spans several months of work.
Cost: Intervals pricing starts at $29.00 per month. They do not have a free version. Intervals offers a free trial.
Zapier is an online automation tool that connects your favorite apps, such as Gmail, Slack, and more. You can connect two or more apps to automate repetitive tasks without coding or relying on developers to build the integration.
Top features:
⇒ 

More than 2,000 Apps.

⇒ 

Dashboards.

⇒ 

ETL – Extract / Transfer / Load.

⇒ 

Multiple data sources.

⇒ 

Web services.
Best for: Small & Medium Businesses. Marketers, Salespeople, Designers, Developers, and more.
Advantages: Zapier has a wide range of integrations available for every business need. User-friendly: it's easy to create and administer zaps.
Disadvantages: Some apps are limited in what they can do. You may still need to create integrations outside of Zapier. 
Cost: From completely free, up to $125 per month. Professional accounts are $50 per month and include Premium Apps, Autoreply Tasks, Paths, and support for 3,000 tasks per month across 50 Zaps. Zapier also offers a Professional Plus account, for $125 per month.
Redmine is a free and open-source, web-based project management, and issue tracking tool. It allows users to manage multiple projects and associated subprojects. It features per project wikis and forums, time tracking, and flexible, role-based access control.
Top features:
⇒ 

Multiple projects support.

⇒ 

Flexible role-based access control.

⇒ 

Flexible issue tracking system.

⇒ 

Gantt chart and calendar.

⇒ 

News, documents & files management.

⇒ 

Feeds & email notifications.
Best for: Technical teams use Redmine for project management, issue and bug tracking, customer help desk, collaborative file sharing, and repository hosting.
Advantages: Because Redmine is open-source, it can be customized to fit your business needs. It is super easy to assign tasks to people and to track the progress of that task or project. 
Disadvantages: The installation process can be a pain for novices: You have to prepare your VM installing Ruby, then Ruby Gems, and other gems to make advances functions to work. 
Cost: The price depends on the number of users. For example, access by a small team of up to 25 users will cost $33/month paid on an annual basis or $43 on a monthly basis.
KanbanFlow is a Lean project management tool allowing real-time collaboration between team members. 
Top features:
⇒ 

Unlimited boards.

⇒ 

Unlimited tasks.

⇒ 

Time & expense tracking.

⇒ 

Collaboration tools.

⇒ 

Customizable templates.

⇒ 

Analytics.
Best for: Companies with productivity needs.
Advantages: Real-time collaboration is possible as each change made on the task board is automatically displayed. Its interface is intuitive, fast, and easy to use.
Disadvantages: Outdated UI makes administrating the tasks a bit of a pain.
Cost: KanbanFlow pricing starts at $5.00 per month, per user. There is a free version.KanbanFlow offers a free trial.
ServiceNow is an IT Service Management (ITSM) desk that can be easily operated as a decent enterprise cloud and sales system. ServiceNow Product is amazing because of easy, smooth customization. It offers the flexibility, power, and dependability to achieve the goals of the incident and problem management.
Top features:
⇒ 

Capacity management.

⇒ 

Compliance management.

⇒ 

Issue auditing.

⇒ 

License management.
Best for: ITSM space. This includes growing organizations of all sizes, in any industry.
Advantages: ServiceNow is highly customizable. You can build out your desired forms and leverage those forms to build out reports to track progress and trends.
Disadvantages: Cost, ServiceNow is a very expensive solution.
Cost: ServiceNow pricing starts at $10000.00 per year. There is a free version.
InVision is a prototyping tool created for designers. It allows you to quickly and easily create interactive mockups for designs. You can discuss the mockups right inside the app by leaving comments, that are connected to a point on the screen that you are discussing.
Top features:
⇒ 

Vector drawing tool.

⇒ 

Responsive and adaptive layout.

⇒ 

Speedy prototyping.
Best for: Anyone doing web and app design, from a single designer to enterprise companies with thousands of employees all over the world.
Advantages: Allows seamless collaboration within a team on design. It makes envisioning user experiences simple and uncomplicated.
Disadvantages: Large InVision prototypes can often be slow on mobile phones because they have to download so many screens. InVision prototypes are pretty limited in terms of functionality.
Cost: InVision pricing starts at $15.00 per month, per user. There is a free version. InVision offers a free trial.
Tools for Code Management in a Remote Team
GitHub is a web-based hosting service that offers a Git repository service and allows using Git's source code management best practices. Also, it supports Subversion (SVN) features. GitHub is considered a social network that connects issue tracking and distributed source control systems. GitHub enables development teams to collaborate, and review and manage code. 
Top features: 
⇒ 

Collaboration.

⇒ 

Integrated issue and bug tracking.

⇒ 

Graphical representation of branches.

⇒ 

Approximately 6 million hosted git repositories.

⇒ 

Code review.

⇒ 

Project management.

⇒ 

Team management.

⇒ 

Social coding.
Best for: Software development for both small startups to large enterprises.
Advantages: It makes it easy to contribute to your open source projects. To be honest, nearly every open-source project uses GitHub to manage their project.
Disadvantages: Paid private repositories. Some users state that it's a bit hard to work with merge conflicts.
Cost: They do not have a free version or a free trial. GitHub offers four paid plans — 'Developer' for 7 USD per month, 'Team' for 9 USD per user/ per month, 'Business Cloud' for 21 USD per user/per month, 'Enterprise' for 21 USD per user/per month.
GitLab is a web-based DevOps lifecycle tool that provides a Git-repository manager providing wiki, issue-tracking, and continuous integration/continuous deployment pipeline features, using an open-source license, developed by GitLab Inc.
Top features:
⇒ 

Audit events.

⇒ 

Authentication and authorisation.

⇒ 

DevOps reports.

⇒ 

Value stream management.

⇒ 

Issue tracking.

⇒ 

Kanban boards.

⇒ 

Time tracking.
Best for: Small and large enterprises to improve business operations using time tracking, incident management, code review, regulatory compliance, and more.
Advantages: GitLab allows users to easily store their code projects and files in a secure environment, allowing easy collaboration amongst users. You can import repositories from other Git tools (such as GitHub), GitLab also imports any version history and accompanying branches.
Disadvantages: Not as good as GitHub in some areas. UI isn't as pretty or friendly as its competitors. Is lacking some enterprise-level features.
Cost: GitLab pricing starts at $4.00 per month, per user. There is a free version. GitLab offers a free trial.
Bitbucket is our Git repository management solution designed for professional teams. It gives you a central place to manage git repositories, collaborate on your source code and guide you through the development flow. 
Top features: 
⇒ 

Access control to restrict access to your source code.

⇒ 

Workflow control to enforce a project or team workflow.

⇒ 

Pull requests with in-line commenting for collaboration on code review.

⇒ 

Jira integration for full development traceability.

⇒ 

Full Rest API to build features custom to your workflow 
Best for: Software developers and product teams.
Advantages: Bitbucket is more flexible than GitHub. It gives you unlimited private repositories. Bitbucket has better pricing for private work. Continuous Integration / Delivery is built-in by default. 
Disadvantages: If the Git workflow is not configured, then unexpected conflicts may occur. In the worst case, even pieces of code may disappear
Cost: Free options for small teams up to 5 users, 'standard' plan (for growing teams) cost starts from 10 USD per month, 'premium' options (for large teams) cost starts from 25 USD per month.
Assembla is the most secure software development platform in the world. Assembla specializes in providing cloud-based version control services for code projects and agile software development. Assembla offers Apache Subversion, Git, and Perforce code repositories.
Top features:
⇒ 

Task and issue management.

⇒ 

Bug tracking and elimination.

⇒ 

Project management.

⇒ 

Subversion & git hosting.

⇒ 

Centralised communication 

⇒ 

Client management.

⇒ 

Portfolio management.

⇒ 

Deliverable management.
Best for: Teams building software.
Advantages: Assembla enables users to manage issues and tickets without a struggle. It gives users the freedom to view tickets in a List or Cardwell view.
Disadvantages:  The clumsy implementation of the scrum and poor handling of sprints through milestones. The lack of decent workflows and the outdated feel.
Cost: Assembla pricing starts at $9.16 per month, per user. They do not have a free version.
Helix ALM (formerly TestTrack) is an end-to-end application lifecycle management solution. It can be used to manage requirements, tests, and issues all in one spot. 
Top features:
⇒ 

Requirements management. 

⇒ 

Testing management.

⇒ 

Issue tracking. 

⇒ 

Traceability matrix. 

⇒ 

Automated workflows. 

⇒ 

Risk management. 

⇒ 

Metrics & reports. 

⇒ 

Endless integrations.
Best for: Development and QA teams to deliver quality products on time and minimize risk.
Advantages: Helix ALM can handle your entire development lifecycle.
Disadvantages: With so much flexibility comes a LOT of configuration.
At DevCom, we use most of this toolset daily. It empowers our team to be productive while working remotely to build excellent software together with our clients.  Learn more about how to start cooperation with IT outsourcing company or contact us.
---