DevCom continues its good work and becomes the Top Cloud Computing Company of July 2020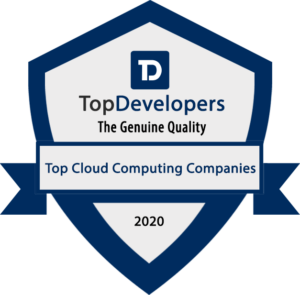 Cloud hosting services can do wonders for businesses of all shapes and sizes. It empowers the organization and allows them to reach more targets. We at DevCom realized the importance of adopting Cloud technology for business enhancement long before, and being a pioneer we have been providing some of the best cloud computing services to our clients around the world.

We are happy to announce that acknowledging our work, in a recent press release about the leading Cloud Computing Service Providers, TopDevelopers.co have included us in the list of Top Cloud Consultants of July 2020.
With our customer-centric approach and expertise in cutting-edge technology, over the past 20 years, we have given some path-breaking services in custom software development, web development, mobile application development, software support, and many more. We have a
team of skilled and experienced developers and designers, who, apart from rendering top-notch cloud computing services; hold a strong hand in delivering exclusive PWA Service Providers as well.
Our expertise lies in various areas. Along with rendering cloud computing services to our clients, we are a one-stop destination for DevOps services, UI/UX design, SaaS Application Development, API development services, and many more.
As far as serving different types of industries are concerned, we have worked for companies coming from healthcare, construction & engineering, information technology, sports, media, e-commerce, etc.
DevCom offers unique yet practical solutions to all your complex problems, thus increasing the popularity and the brand value of your organization. Our style and dexterity of technical implication will differentiate your business or product from your competitors and our foresightedness will keep you ahead of the curve always.
At DevCom, we focus on providing competitive benefits to our clients so that we can help them meet their business goals. We take deadlines very seriously and thus have the mastery over providing profound software solutions within the budget timeframes of the clients. You can also check Devcom's profile on TopDevelopers.co to have some key insights about our organization.