Ukrainian IT Trade Mission in Norway
Oslo, October 8–11, 2019 – A trade mission of companies from Ukraine visited Oslo last week to learn more about the business opportunities in the IT sector in Norway and to promote economic cooperation. DevCom,  as a  leading outsourcing software development company, was honored to represent Ukraine and join the global community of IT leaders.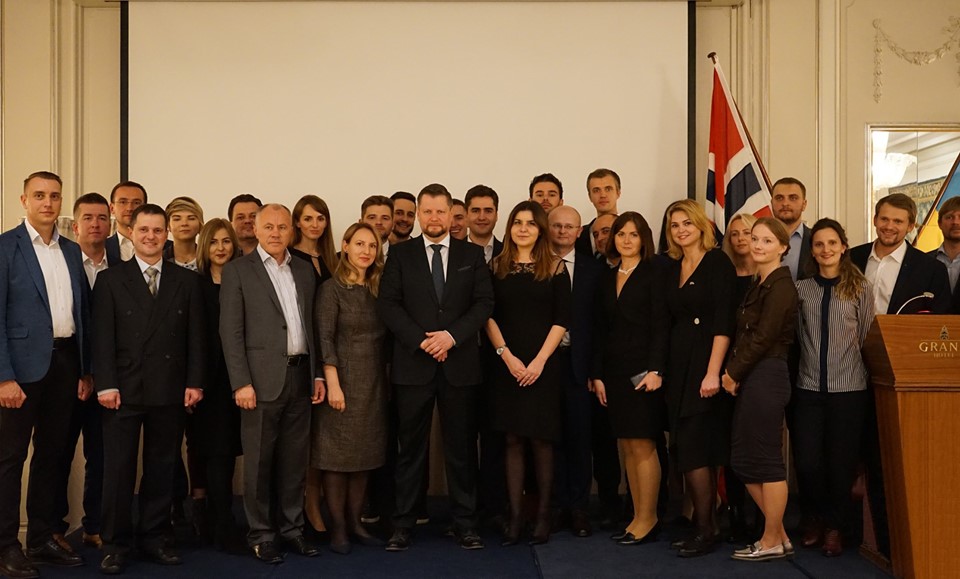 Ukrainian IT Trade Mission in Norway, organized by the Export Promotion Office of Ukraine in partnership with the IТ Ukraine Association, brought together 15 leading Ukrainian outsourcing companies with Norwegian partners to exchange knowledge. Norwegian companies had an opportunity to learn more about the Ukrainian IT sector and Ukrainian companies to explore the Norwegian IT market from the inside. 
The main focus was to build up business relations and to foster existing cooperation. Besides, the Export Promotion Office of Ukraine provided for a lively supporting program – inspiring speeches, workshops, promising B2B meetings, informal networking events. In Oslo, the group heard from companies, operators, and authorities about current market opportunities. Many Norwegian companies have a significant interest in doing business with Ukrainian IT partners.
Norwegian IT Market From the Inside
The technological advancement of the Norway region isn't something to argue about. Norway has a massive stock of world-class software-engineering talent, a thriving tech ecosystem, and a track record of venture investing.  However, such success comes with a price: software developer salaries in Norway are skyrocketing, and it's getting hard to find skilled in-house tech engineers. Technological progress results in a significant inflow of capital and the growing demand for software developers.
That is the reason why the IT industry represents a promising sector of cooperation between Ukraine and Norway. 
Cost Reduction, Efficiency, and Quality Improvements are the Top Three Objectives When Outsourcing
While the talent pool of developers specializing in a variety of technologies is expected to grow further in Ukraine, Norway is going to face the shortage of software engineers in the nearest decade. There are several ways to fill this gap, but the easiest and fastest one is outsourcing. 
Software Developers Salary: Norway vs Ukraine
The salaries of Norwegian programmers range from about $67K to $85K, with the average at $70,776, according to PayScale.
To put this into perspective, let's look at the tech market in Ukraine. The average software developer salary in Ukraine is around $24K a year. Bear in mind, though, that the actual annual income depends on the developer's tech stack and the level of experience.
NO-UA: A Win-Win Collaboration
By delegating software development tasks and projects to Ukrainian companies, Norway can reap the benefits in the form of agile and cost-effective development services performed by skilled professionals with strong scientific and mathematical proficiency. Moreover, geographical proximity makes cooperation more convenient and less time-consuming, as an average flight from Norway takes only 3-4 hours. 
All in all, more and more Nordic companies realize that, in the present situation, the best decision is to outsource. Lucky for them, the world of outsourcing has recently changed a lot and changed for the better.
⇒Learn more about IT outsourcing to Ukraine here.
---
About DevCom
Established in 2000, DevCom is a full-service outsourcing software development company. DevCom provides complex and cost-effective IT solutions and handles project development throughout the entire lifecycle: starting with strategic planning and UX/UI design, through application development and quality assurance, to technical delivery, production maintenance, and support.
The company specializes in Cloud Computing (AWS, MS Azure), Microservices, BI, Web / Mobile / Desktop development, API development, Application Re-Engineering, Embedded Software, DevOps, Testing & QA, Project Management.
DevCom operates offices in Ukraine (Lviv) and the USA (FL); the development center is located in Lviv – one of the most vibrant tech cities in Ukraine, and one of the country's largest tech hubs.
⇒Learn more about how to start work with DevCom here.