Helping businesses to solve their business challenges with innovative technology solutions endows DevCom to lead as one of the preeminent software development service providers in LVIV at GoodFirms.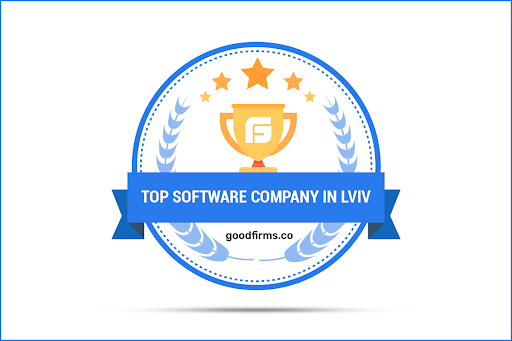 Overview
Incorporated in 2000 and based in Lviv, Ukraine, DevCom is a one-stop custom software development corporation handling the entire lifecycle of product development. From strategic planning and UX/UI design, application development, and quality assurance to technical delivery, production
maintenance, and support, DevCom delivers products with speed and agility to efficiently support businesses in dynamic markets.
The company practices Web / Mobile / Desktop application development, Microservices, BI, Cloud (AWS, MS Azure) / DevOps, Blockchain, SaaS, API development, application re-engineering, embedded software, UX/UI Design, Testing & QA, Project Management.
With 20+ years of software development experience as a strong outsourcing technology partner, DevCom implements complicated and cost-effective IT solutions for businesses irrespective of their sizes – from small enterprises to international groups.
DevCom caters its services to clients from different verticals such as Healthcare, Logistics & Transportation, FinTech, Non-profit, Gas & Oil, Construction & Engineering, Retail & E-commerce, Energy, Sport, and Non-profit.
In addition to this, at DevCom, the professionals comply with the most advanced development and technology norms to employ cutting-edge software engineering methodologies and assimilation methods. It aims to provide the right IT services for the clients that fit their individual needs, timeframes, and budget.
         GoodFirms'  Research Methodology
GoodFirms is an examination and review portal matching the pace between service seekers and service providers. The group of equipped researchers at GoodFirms helps an extensive range of corporations trading in IT that seeks to be a part of the directory of service providers. These service providers are further examined based on the three most essential perspectives of the GoodFirms search process: Quality, Ability, and Reliability.
Analogously, GoodFirms studied DevCom and asserted it amongst the prominent brands in providing outstanding services and solutions at GoodFirms in the software categories.
           Software Development
With DevCom's custom software engineering expertise, industry domain knowledge, and solid scientific proficiency, the professionals create market advantages for global customers.
The DevCom team addresses clients' software development projects in a custom manner and always remains ready to tailor a software solution specific to clients' business needs to integrate it into their ongoing projects.
Moreover, the able team helps clients to walk through the entire software development lifecycle. They transform clients' regular business into a digital one irrespective of their business sizes: an SME, an enterprise, or a startup.
Thus, developing custom-tailored software solutions that adapts quickly to all the possible devices: mobile, tablet, and PC endows DevCom as one of LVIV's leading software development service providers at GoodFirms.
The review displayed below reflects the quality service offerings rendered by DevCom.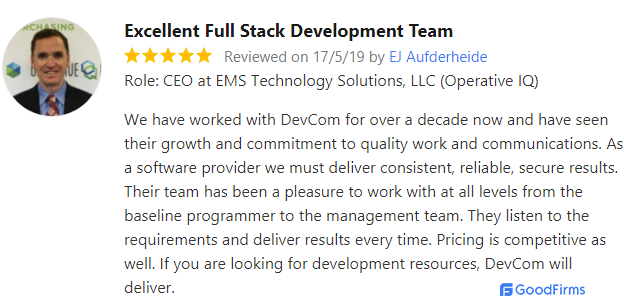 Implementation Services
DevCom's discovery phase services help manufacturers to create an interactive criterion, choose a technology stack, optimize development expenses, mitigate risks, and come up with a well-planned software development timeline.
DevCom's implementation services are ready to tackle their toughest challenges and help improve methods and technology. The team offers clients the skills, technology, and industry knowledge that help clients set product purposes, prioritize product features, produce wireframes and mockups, obtain product architecture, produce an interactive prototype, estimate prices, and plan project development stages.
Thus, finding new emerging possibilities with technologies and optimal solutions to expedite progress, improve project and software through data analysis endows DevCom as one of the top implementation service providers at GoodFirms.
               DevOps Services
Rendering DevOps-as-a-Service is one of DevCom's core divisions of expertise. The dedicated teams with 6+ years of knowledge in DevOps-as-a-Service assist the customers in executing technology, and organizational change focused on diminishing software time-to-market, restricting defects, and reducing risk by implementing DevOps.
The experts' team uses the best DevOps practices, cloud features, and innovative tools to design, execute, and maintain cost-efficient cloud infrastructure and continuous assimilation and delivery of new code and automation of workflows.
In addition to this, the DevCom team help clients in maintaining consistency in clients' software deliveries, advancing the productivity of their teams, subduing complexities involved in managing their systems, enhancing their IT systems and streamlining their methods, resolving the problems as and when they befall, and automating clients' routine, repetitive tasks.
Thus, backed by a team of such skilled professionals, DevCom gets dubbed one of the top DevOps consulting services in Ukraine at GoodFirms.
About GoodFirms
Washington, D.C.-based GoodFirms is a maverick B2B research and reviews firm that aligns its efforts in finding software development, mobile app development, and Big Data BI agencies delivering unparalleled services to its clients. GoodFirms' extensive research process ranks the companies, boosts their online reputation and helps service seekers pick the right technology partner that meets their business needs.
About the Author
Working as a Content Writer at GoodFirms, Anna Stark bridges the gap between service seekers and service providers. Anna's dominant role lingers to form every company's achievement and critical attributes into words. She strongly believes in the charm of words and equips new approaches that work, always with concepts, something new to create, and something unique to enhance the firm's identity.