Established in 2000, DevCom is a full-service custom software development company headquartered in Florida and Ukraine. We handle project development throughout the entire lifecycle: starting with stra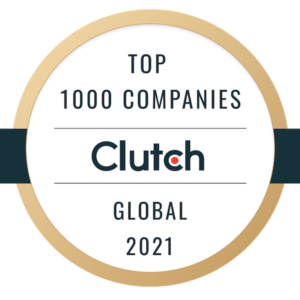 tegic planning and UX/UI design, through application development and quality assurance, to technical delivery, production maintenance, and support — all delivered with speed and agility to effectively support businesses in dynamic markets.

It has recently come to our attention that we've been recognized as a leader on Clutch in the cloud consulting services space. For context, Clutch is hugely respected within the B2B space for connecting small, mid-market, and enterprise businesses with service providers that fit their needs.
Each year, Clutch highlights the top 1000 B2B companies across different industries. The leading companies deliver high-quality customer service and have accumulated profound knowledge in their fields of expertise. Receiving this award is no small feat, and we're incredibly appreciative of this recognition.
---
"It's an honor for us to be acknowledged for our work as being recognized by Clutch in multiple categories. As service providers ourselves, we treasure each review and recognition we receive; we know that these bring more opportunities for us. We are very thankful to all of our clients who left us reviews on Clutch for both these awards and our 4.9-star rating!" – CEO of  DevCom
---
We're delighted to receive this outstanding award and look forward to helping even more companies grow their businesses with our expertise in cloud consulting services. We genuinely believe that our client's happiness is one of our biggest yardsticks for success. To those clients that trusted us, we genuinely appreciate it. Here's what they have to say about working with us:
"They listen and understand what we want to do but also actively seek the best solution to bring to the table. Their initiative and drive are refreshing."
– Dion McCormick, Platform Engineer, GBS Enterprises
If this is your first time hearing about us and you want to know more about our past projects, please don't hesitate to visit our profile on Clutch.
If you're in the market for an award-winning I.T. service provider, contact us.