Ukrainian IT Trade Mission to Canada
12-14 November 2019,  sixteen Ukrainian IT companies visited Toronto with the IT Trade Mission (from Ukraine to Canada). DevCom joined other representatives from the sector to share with Canadian partners the main features and experience of the powerful Ukrainian innovation hub. 
The Trade Mission program foresaw the seminar for Ukrainian exporters, the Ukrainian-Canadian Business Forum, B2B meetings, and visits to Canadian organizations to exchange experience and establish contacts.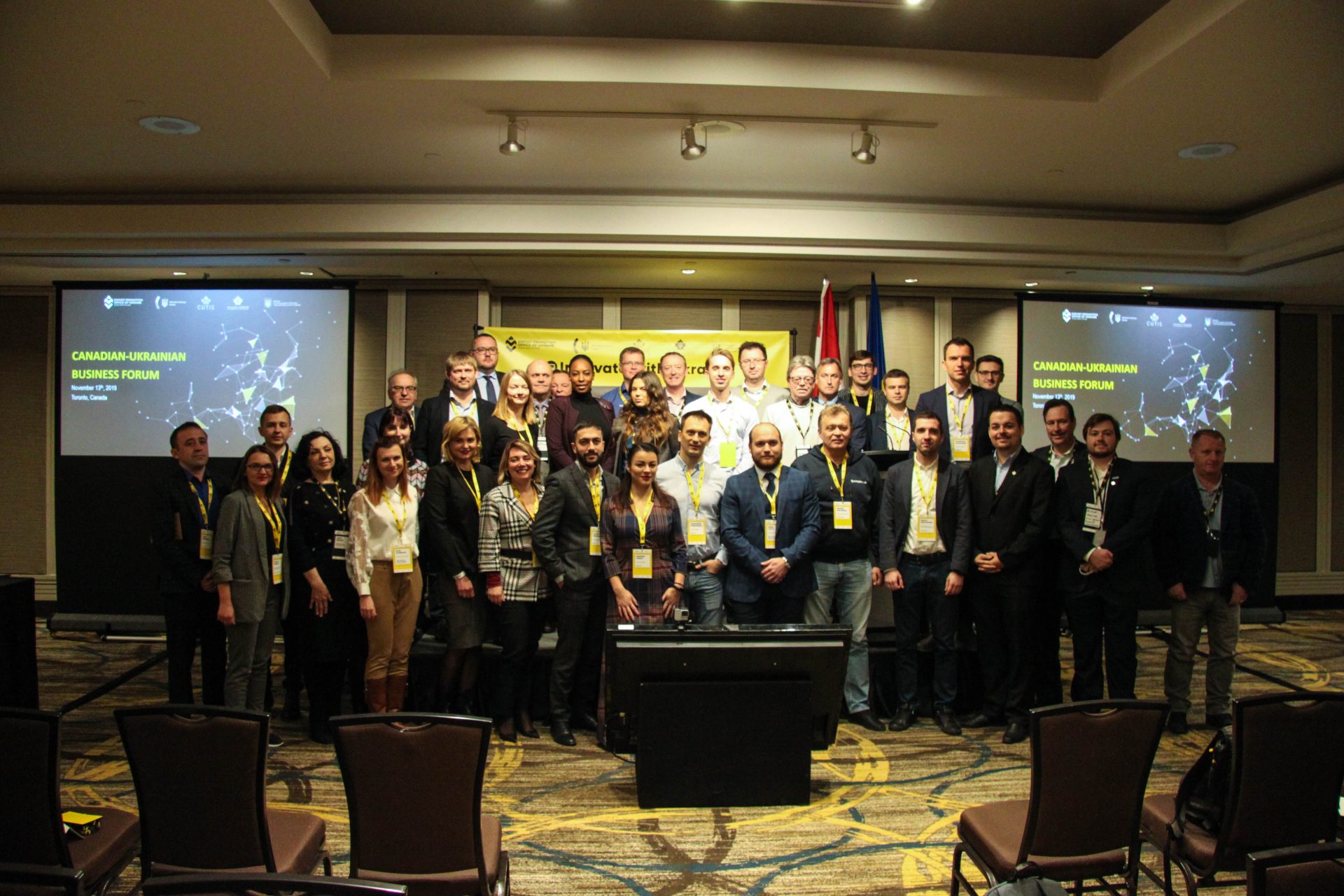 Ukrainian IT Trade Mission to Canada
Canada and Ukraine are launching a new

and dynamic business and economic relationship
The most prospective IT companies have traveled to Toronto to learn about the local market, present their IT projects, and to find business partners. 
During this time, the delegation visited: Southlake Regional Health Center (Newmarket), MaRS Innovation Center (Toronto), Communitech Innovation Center in Kitchener, Google Office (Kitchener), Cisco Innovation Center (Toronto), IBM Innovation Center (Toronto). These visits helped to understand the features of the local market, communicate with Canadian innovators, learn about the trends of the local IT market, and even discover new business directions.
On the second day of the mission, the Canadian-Ukrainian Business Forum was held. The Forum provided a unique opportunity to met key Ukrainian and Canadian business leaders. It was the platform for discussing the opportunities between Ukrainian and Canadian businesses.
Also, more than 100 B2B meetings took place this day with the participation of 70 Canadian companies.
One of the most important findings made by Ukrainian IT entrepreneurs is that during a trade mission, it was possible not only to expand business contacts and find potential partners but also to open new directions for project development, find free niches and rethink clients.
For DevCom, it was very important that Canada's main industries are the  Logistics and Transportation  | Retail and eCommerce | Construction. We have expertise in these areas.  
In general, the Canadian IT market is incredibly promising for exporting Ukrainian IT products and services. 
Canada is a country of limitless opportunities

for Ukrainian IT exports
There are several reasons why Canada is attractive to Ukrainian IT companies. 
Canada and Ukraine enjoy close relations. Historic ties of friendship between our two countries were forged through generations of Ukrainian migration to Canada. Mentality, cultural similarities – it is crucial for smooth interaction and understanding of the client's visions and needs  
The technological advancement of the region isn't something to argue about. Toronto, Vancouver, and Montreal are frequently named as top destinations for tech talent. These cities have a thriving tech ecosystem and a track record of venture investing. But, there is a lack of IT people in Canada. An increasing number of Canadian businesses are considering Ukraine as a primary location for outsourcing their software development needs. 
Software development companies in Ukraine offer high-quality technical services, including software engineering, custom web development, software testing, cloud, and app development, to name but a few. Plus, there is a large number of developers with different expertise and skills from which clients can choose from.
Many organizations are already working with Ukrainian IT companies and have proven to be solid partners. For software development, IT outsourcing to Ukraine makes total sense for Canadians.
CA – UA 🤝 Let's do IT together!
The Ukrainian IT Trade Mission to Canada and business forum were organized by the Export Promotion Office, with the support of the Canada-Ukraine Chamber of Commerce, Canada-Ukraine Trade and Investment Support project – CUTIS and the Embassy of Ukraine in Canada.
We thank Export Promotion Office for their trust in the DevCom company, their enthusiasm, and their desire to promote Ukrainian business globally. We hope that the results of this mission will be very generous in the new partnerships between Ukraine and Canada.
Nevertheless, the mission is finished; we still would love to connect with people from Canada to discuss their exciting projects.


---
About DevCom
Established in 2000, DevCom is a full-service outsourcing software development company. DevCom provides complex and cost-effective IT solutions and handles project development throughout the entire lifecycle: starting with strategic planning and UX/UI design, through application development and quality assurance, to technical delivery, production maintenance, and support.
DevCom operates offices in Ukraine (Lviv) and the USA (FL); the development center is located in Lviv – one of the most vibrant tech cities in Ukraine, and one of the country's largest tech hubs.
⇒Learn more about how to start work with DevCom here.