2019 was a whirlwind. Many things have changed over the past 365 days, and we have a lot to remember! Winning awards, participating in global events, opening a new office, mastering new technologies, implementing innovative approaches and, of course, creating best-in-class software solutions for our clients and make our big team of 100+ specialists happy.
Before 2020 kicks off, we compiled our favorite moments from 2019. In no particular order, here's the list: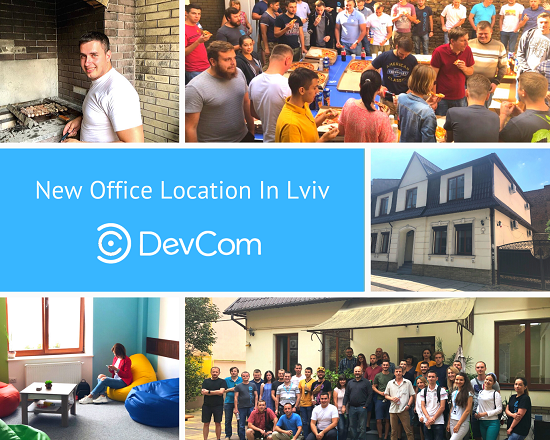 New Office Location In Lviv
In July, DevCom added a new branch office in Lviv located on Cholovskogo 5 Street. With a new location, DevCom boosts its delivery capacity and answers a strong demand for company growth. 


"When considering the next phase of our growth in the city, it was important that our newest office space was situated in the heart of a Lviv's vibrant tech community, and in the close location to our main office," Ihor Kryzhylko, Vice President of Operations.
For our employees to do their best work, the office has its common area, so employees can take a load off when they need to.  And one more bonus – outdoor patio and its BBQ zone. Now we have a space for networking, team building events or to get some fresh air and sunshine during working hours.
Strengthening Global Footprint
This year, DevCom visited several global tech events across the USA, the UK. 
We are also very proud to be the winner of the competitive selection of representatives of the Ukrainian IT sector to participate in the IT Trade Missions to the Kingdom of Norway and Canada.


'IT Trade Missions were organized by the Export Promotion Office of Ukraine in partnership with the IТ Ukraine Association. DevCom, as a leading outsourcing software development company, was honored to represent Ukraine and join the global community of IT leaders. The main focus was to build up business relations and to foster existing cooperation. We hope that the results of this mission will be very generous in the new partnerships between Ukraine – Canada and Ukraine – Norway,' Iryna Povkh, Business Development Manager.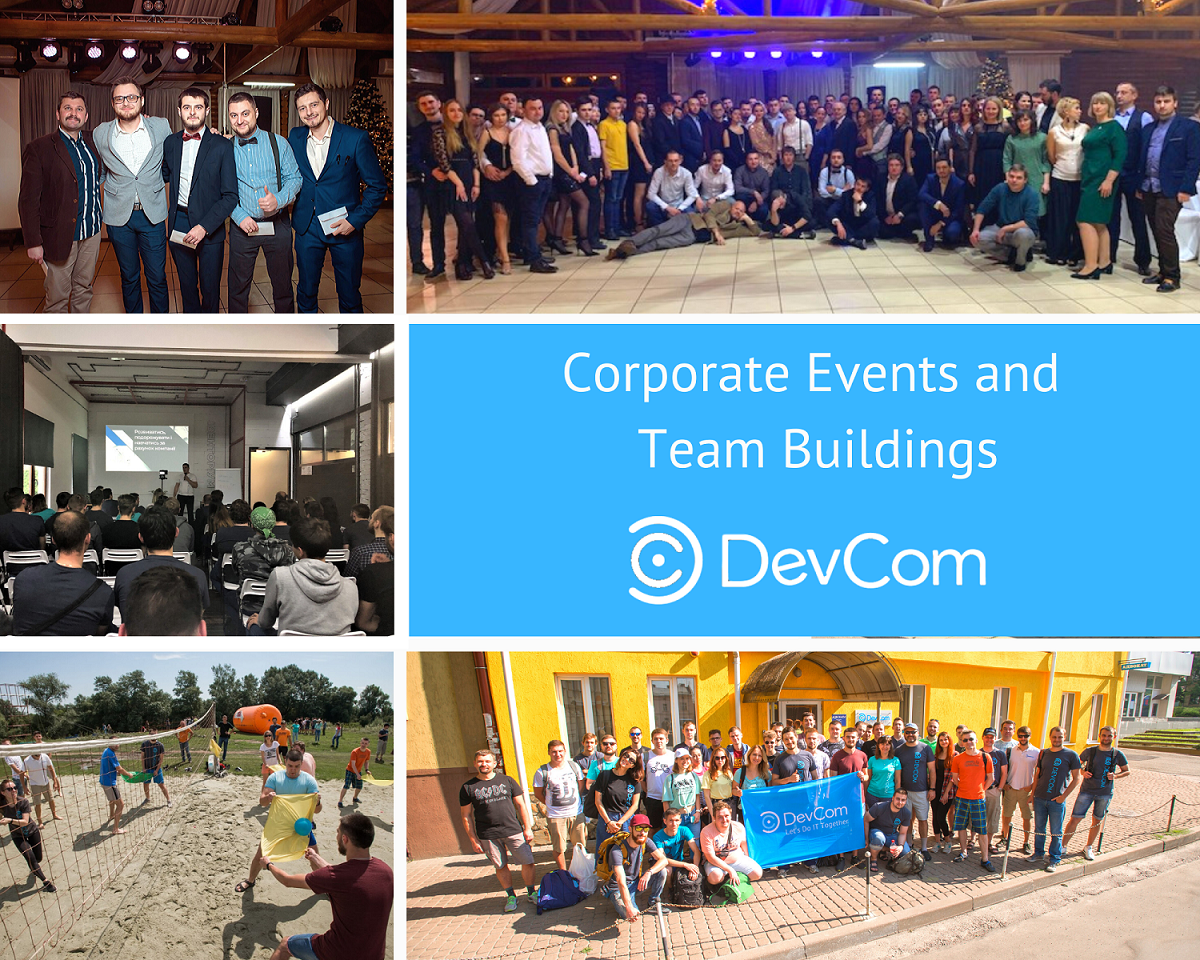 Corporate Events
There is much to mention here, but in short, there was:
Three official corporate events: Spring Strategic All-Hands Meeting, Summer; Team Building and Winter Corporate Party – Year Summary;

Over 40 team buildings between departments;
5 internal tech talks and seminars.
Besides, we can boast of our sports achievements:
New football team –  three matches in the Lviv IT League – three victories;

New volleyball team;

Ping-pong cup.
All these events helped us hold onto our company culture, values and also push for bigger goals as we scale.
Many-Many Great Reviews
We've completed so many great projects over the year,  received so many positive reviews on Clutch, on our Youtube channel, and in person.  And we see it as a cause for celebration! We are thankful to everyone! Because we take pride in every solution, we've developed and cheered at the success of every client we've helped.
New Website
After five months of hard work and dedication, we have launched our new website and blog. 
Our goal with this new website is to provide our visitors with an easier way to learn about DevCom's services and to browse information based on their own choice. The new website gives better access to Who We Are, How We Work, Portfolio Examples, Expertise & Services, Blog, as well as improved Careers page.


"Our current and prospective clients will find useful information about our services on the homepage of our website. The case studies will highlight the projects we have completed and outline how we have designed growth and created new value for our clients across a myriad of industries. But this is not the end – we will constantly update our website with new features and helpful information, company announcements, and client successes." Halyna Vilchynska, Marketing Lead.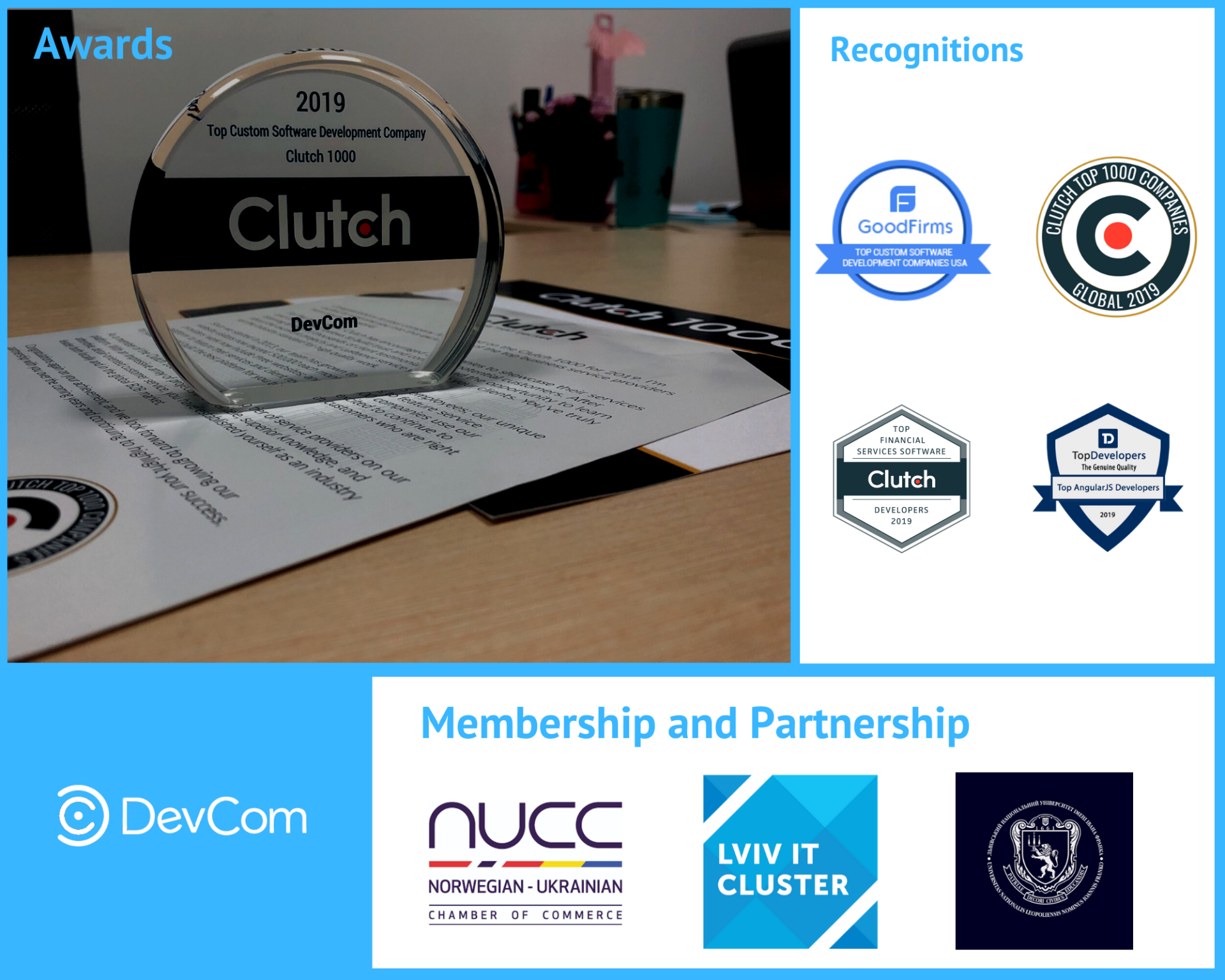 Awards For Exceptional Software Development Expertise
For the past 365 days, DevCom has been recognized and accolades for its exceptional software development expertise and innovation. We received many awards and recognitions. Here are some of them:
Clutch Top-1000 List: DevCom is among 11 Software Development Teams in Ukraine;

'Top AngularJS Development Company', by TopDevelopers.co;

'Top B2B Company', by Clutch;

'Top Software Development Company in the United States', by TechReview;

'Top Financial Software Developer', by Clutch;

'Top Custom Software Development Company in the US', by Goodfirms;

'Top Software Developers,' by The Manifest;

'Best B2B firm in Ukraine', by Visual Objects.
We are proud of the awards we won and the recognition we gained and look forward to adding to this list as we develop new ways to satisfy our clients and employees.
High Appreciation by Employees
DOU.ua, the biggest local community of IT professionals in Ukraine, rated DevCom in the number of 15 best places to work in Lviv in 2019. The most important and telling result of the DOU.ua rankings for DevCom is reaching the top position for each of the following evaluation criteria: Working conditions, Projects, Loyalty.


"The rating represents the feedback of our team. We believe in building an inclusive culture, and it's great to see our team recognize that in their experience here," Oleh Hlushko, HR Lead. "We have made great progress in important areas, including diversity, pay equity,  sustainability."
Membership & Partnership
Starting from December, DevCom is a part of the Norwegian-Ukrainian Chamber of Commerce – NUCC. Now, we are looking forward to excellent cooperation and access to international partner network opportunities with Norwegian companies.
Besides, we continue cooperation with Lviv IT Cluster and Ivan Franko Lviv National University.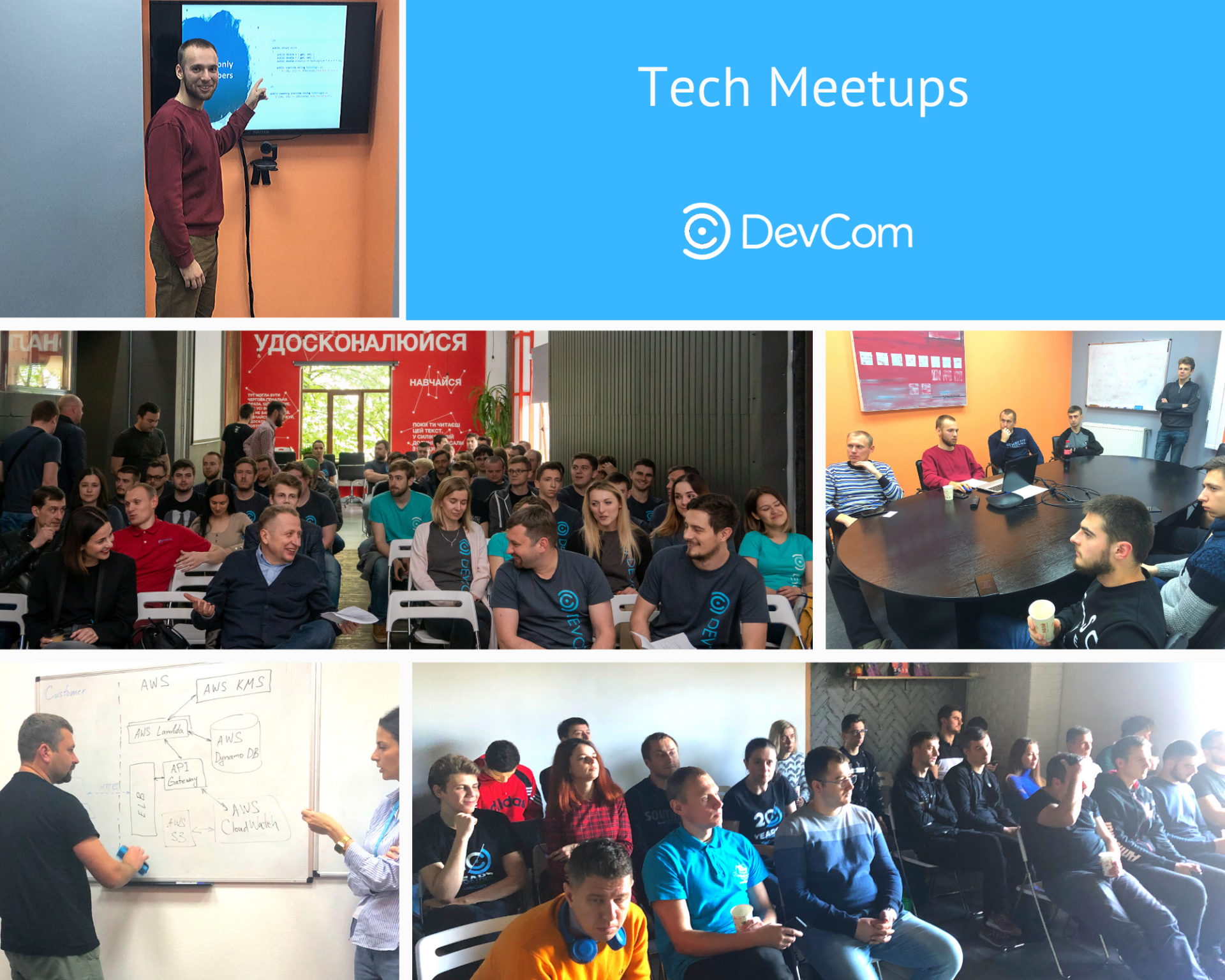 Mastering New Technologies
DevOps, Cloud Computing, and AWS drove disruption and created opportunities in 2019 strategic technology trends for DevCom. This is no surprise as the cloud sector has been growing rapidly for the last few years. 


'We reported a 30% overall growth year-over-year in cloud services provided to our clients, and our forecast shows doubling this percentage within the next year. Going forward, we aim to expand our strong positions as a trusted software development company, and to extend our solutions capability to address our customers' unmet needs',  Slavik Lavryk, Vice President of Software Development.
Tech Meetups
DevCom is rapidly moving forward, changing and expanding its horizons, and our results are the best proof. The executive team realizes that people are the most crucial part of the business and invest their time and resources accordingly.
We managed to organize some great tech events on the trending topics of 2019 like C#, Software Design Patterns, Microservices and Cloud, and the latest trends in digital identity tech.
Certifications
Being certified is just one of the cornerstones of good business practice. That's why we, at DevCom are busy training our engineers to become accredited and qualified, as certified by AWS! Our engineers went through a rigorous testing process and brought us closer to our goal of becoming an AWS official partner in 2020.
We Go Green
Corporate Social Responsibility is an integral part of the DevCom core business strategy for 2019-2021. By building a pragmatic and innovative approach to meet today's challenges, DevCom contributes to making a significant positive impact on society in many different ways. 
We made our offices more sustainable this year. We achieved this by reducing the ecological footprint and by creating awareness about sustainability amongst staff.  Here are some small, easy, green choices we have made this year:
We started sorting garbage in our offices, and we are all now encouraged to take an active role in recycling;

We abandoned plastic tableware;

We planted a simple backyard garden;

We switched our light bulbs to energy-efficient types;

We encourage employees to walk or ride a bike, by providing parking space for bicycles.
Also, we've been glad to support several social initiatives including lT Mykolai, charity fairs, and more. And we'll continue creating an impact together in 2020.
Looking For Great 2020
Another year has come to its end, and we have a lot to remember! Ahead of us is the celebration of DevCom's 20th anniversary, and new achievements. 
Thank you to all of our clients, partners, and friends for a great 2019! Looking forward to new heights and new fantastic experience together!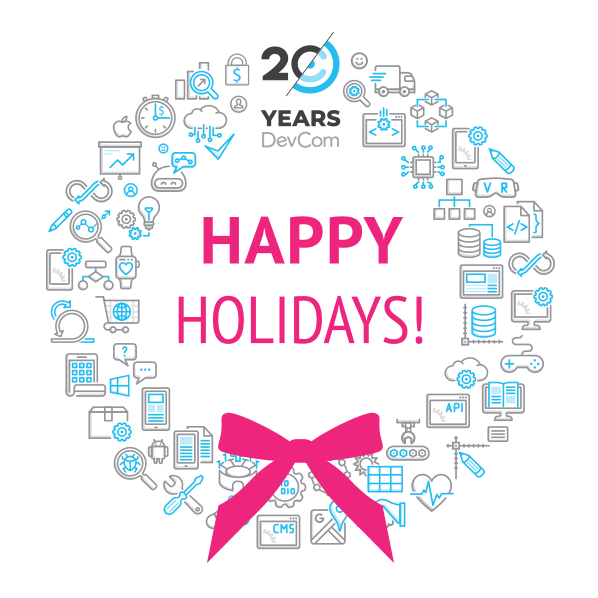 ---
DevCom's social media channels are constantly being updated with news, important announcements, and some pretty cool behind the scenes coverage of the DevCom team in action.  Follow the official DevCom pages here: Youtube / LinkedIn / Facebook / Instagram /  Twitter / Medium .
---