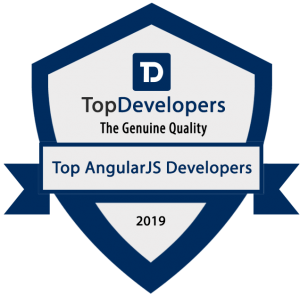 DevCom, a custom software development and consulting company, has been named as one of Top AngularJS development company by TopDevelopers.co, renowned ratings and review agency for B2B Firms.
AngularJs is one of the most popular web development frameworks available today. Its inherent ability for developers to s create rich internet applications in a clean MVC way has led to its phenomenal success.
Being Top AngularJS development company in the industry motivates us to continue the excellent work and in improving our competence in this technical implementation.
Apart from being expert AngularJS developers, we at DevCom have also proven our expertise in various other services like custom software development, web/desktop/mobile app development.
We at DevCom have been providing our software solutions for about 20 years now, and have provided solutions to clients from a wide array of industries like the fin-tech, logistics and transportation, healthcare, construction industry, sports, and media. Working with such a diverse set of clientele has helped us in growing as a premier IT service providing company. Our portfolio is built with hard work, expertise, technical skillset, and intelligence. It is the right place to know in deep about the projects that we have completed and how far we can go to satisfy our clients.
DevCom has always believed in keeping a balance between the industries we serve, the clients we cater to and the exclusive services that we provide. When you visit the profile of DevCom on TopDevelopers.co you will find out more about this balance.
About TopDevelopers.co
TopDevelopers.co is a B2B directory service provider whose main focus is on classifying various IT service providers from all over the globe. The expert analysts at TopDevelopers.co ensure that the service seekers get to only the best IT companies to select from. Their analysis is unbiased and in-depth, which ensures that only the best companies pass through their stringent parameters. The platform has helped many service seekers in selecting the ideal IT service provider according to their requirements.