DevCom, full-service software engineering firm, headquartered in Lviv, Ukraine, and which serves customers globally, celebrates its 20th anniversary this year.
In Summer 2000, DevCom IT company was founded by a group of Lviv Ivan Franko National University computer scientists. The company started its journey from the web application development for veterinary clinics and spent more than 15 years supporting veterinary practice management software. It was a commercial project which gave more than 1,000 clients for veterinary clinics and pharmacy.
Over the past 20 years, DevCom IT company has been fortunate to be involved with developing and building some great products across a variety of industries. The collective knowledge about these industries and the number of problems we've solved has created excitement for the next challenge that might come our way. 
---
Additional Reading: DevCom's 2019 In Review
---
DevCom has been working on software products in the outsourcing business for 20 years. DevCom complies with the latest development and technology standards, apply cutting edge software engineering methodologies and integration procedures. We work with enterprises and rapid-growth startups to enhance experiences that solve real-world problems for businesses and their customers.
Top success indicators of the DevCom company:
⇒

20 years of IT outsourcing experience
⇒ 2-19

years relationships with key Customers

⇒ 95% of the clients are ready to recommend DevCom to others and repurchase
⇒ 100

+ skilled software engineers

⇒ 45% of

employees work with DevCom for

7-19

years

⇒ Headquartered in Ukraine (Lviv)

and the

United States (FL)
⇒ Clients in the USA

,

Canada

,

Germany

,

UK

,

Denmark

,

Netherlands

and more

⇒ Mature delivery and management model
This year, DevCom IT company celebrates its 20th anniversary by looking toward the future-continuing its tradition of innovation, business best practices, and social responsibility.


Commenting on the anniversary, DevCom's VP of Software Development Slavik Lavryk said: "At DevCom, we're all about developing. Developing strong ties with our team members and robust partnerships with our clients. Over the last 20 years, our team has grown to become a big, welcoming family. And because building complex software engineering solutions requires trust and dedication, we treat our clients as a part of our family too. DevCom and the people involved have worked hard to develop and maintain the trust we have today.
We believe that the number of years in the software development business is something to be incredibly proud of for DevCom.  Our anniversary logo and strapline 'We do IT together' captures the essence of who and what we are as a company. Maintaining that approach is an integral part of the ambitious plans we have for moving forward. I am sure the next 20 years will be even more exciting."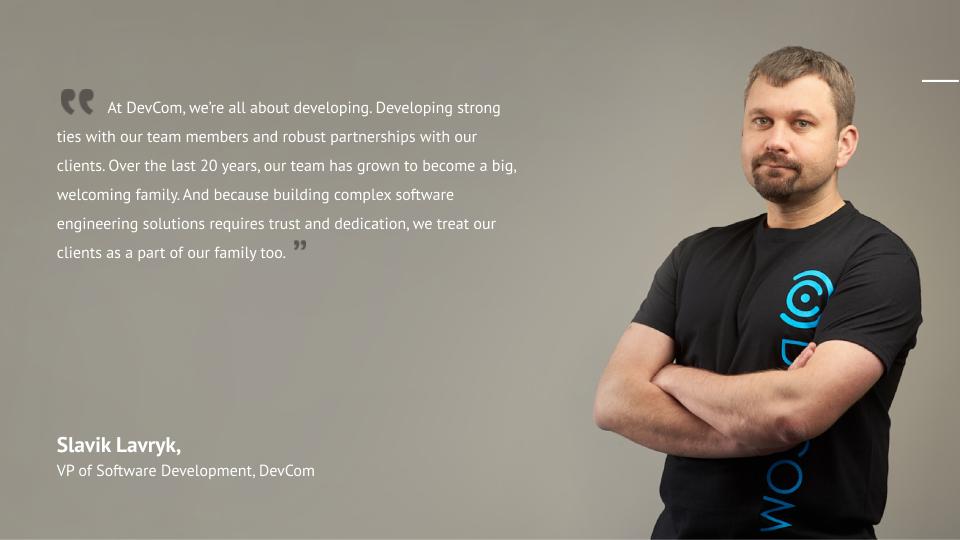 About DevCom
The DevCom company is a full-service software engineering firm in Lviv, Ukraine. DevCom`s representative offices are located in Florida, the USA.
Main areas of expertise: software and application development for independent software vendors and companies of all sizes – from small businesses to international groups.  
The company provides a full range of IT consulting services, from the development of the product idea to its final implementation. It specializes in the areas of Cloud/DevOps, Web/Mobile/Desktop development,  SaaS, BI/Analytics, and UI/UX, with a focus on five major segments of the market — healthcare, logistics, fintech, retail, nonprofits.
More information about DevCom IT Company here ⇒