At DevCom, we are a trusted technology partner for many of the world's leading enterprises, SMEs, and technology innovators. We take pride in every solution we've developed and cheer at the success of every client we've helped.

With that in mind, we are proud to share with you our Year in Review on Clutch for 2021. For context, Clutch is hugely respected within the B2B space for connecting small, mid-market, and enterprise businesses with service providers that fit their needs.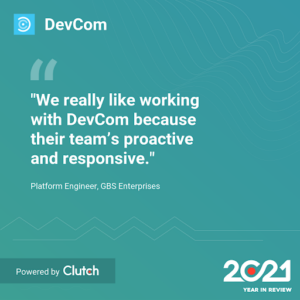 In 2021, we recorded highly-rated reviews on Clutch and a high NPS score, meaning that our clients are 100% willing to recommend us to their family, friends, and colleagues. We are incredibly grateful to all of our clients for giving us such high ratings, as this validates our commitment and expertise to every project that we tackle.
"It's an honor for us to be acknowledged for our work as being recognized by Clutch in multiple categories. As service providers ourselves, we treasure each review and recognition we receive; we know that these bring more opportunities for us. We are very thankful to all of our clients who left us reviews on Clutch for both these awards and our 4.9-star rating!" – Dima Semensky, CEO, DevCom
In addition to our Year in Review, DevCom was also highlighted on Clutch among Eastern Europe's top cloud consulting services providers. Out of the numerous companies in this category, we ranked #2, and we're especially proud of this recognition.
The whole team at DevCom would like to extend our appreciation to all of our clients, partners, and friends for this notable year. We invite you to enjoy the ride and create a fruitful experience trip with DevCom in 2022!
If there is a way we can help you meet your goals with software, don't hesitate to drop us a line. Let's do IT together!