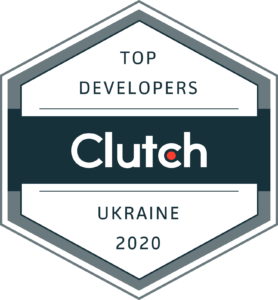 On August 3, 2020, Clutch, the leading ratings and reviews platform, named the top-rated software developers in Ukraine for their industry expertise, reliability, and excellence in delivering IT services.  

Being placed in the top 15 developers in Ukraine, DevCom proves its strong leadership in the challenging market.
DevCom's remarkable portfolio, technology expertise, professional team, and industry knowledge, combined with the reputation and customer's trust, help the company earn multiple leader awards and establish a regular presence at Clutch reports. Earlier this year, our company has been highlighted by ratings and review firm, Clutch, as being a ranked on the Clutch 1000, a list of the 1000 top-performing software development companies and service providers.
Clutch bases its research on a company's market presence, former clients, brand reputation, and more. The companies must also have a verifiable presence in their location. Central to their process is client reviews. In their unique process, analysts have spoken directly with many of DevCom's clients and learned more about the services we provided. With 17 reviews and an overall 4.9 rating, we've seen reliable results from Clutch's extensive research process.
Research on Ukraine's B2B industry is ongoing, and Clutch invites interested companies to create a profile for a chance to be on next year's report.
"Clutch is honored to recognize the leaders in this report," said Clutch Customer Experience Analyst Danny Ehrlich. "We can't wait to highlight even more high-achieving software developers in our future recognitions."
In 2020, the software development sector in Ukraine grew despite the Corona Crisis. Information and communication technologies are the third largest industry in the technological hub. At the beginning of 2020, the number of specialists employed in the IT industry reached 200 thousand people. This is 19% more than a year earlier.
The leaders on the list are based in Lviv, Kharkiv, and Kyiv – cities filled with technical innovation.