Earlier this year, our company has been highlighted by ratings and review firm, Clutch, as being a ranked on the Clutch 1000, – a list of the top-performing software development companies and service providers. And now it is twice as pleasant to receive this award formally. DevCom is a part of the Clutch 1000!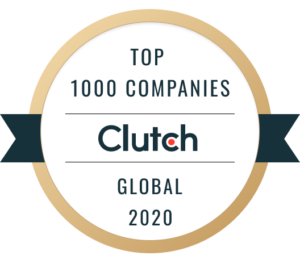 On Friday, December 4th, DevCom was named to the Clutch 1000 in an official announcement from Clutch. We are happy to share our official award!
The Clutch 1000 features the companies with the highest ability to deliver scores on Clutch. It's an exclusive club for B2B companies with a proven ability to deliver quality work to their clients.  InformatDevCom proves its strong leadership in the challenging market.ion and communication technologies are the third largest industry in the technological hub. 


"Each year, our company takes the time to highlight the top tier industry leaders in the global B2B market," – said Clutch Founder Mike Beares. – "With an impressive background of projects, responsive customer service, and superior skillsets in their fields, these companies have proven time and again that they're the best choice when selecting a B2B provider."
To determine rankings, Clutch analyzes a company's:
Recency, quality and quantity of Clutch-verified client reviews.

Offered services, the experience providing those services.

Portfolio of clients.

Brand reputation and visibility in its target market.

Types of clients company work with.
---
We are very thankful to all of our clients who left us reviews on Clutch for both this award and our 4.9-star rating! DevCom's remarkable portfolio, technology expertise, professional team, and industry knowledge, combined with the reputation and customer's trust, help the company establish a regular presence at Clutch reports.
About DevCom
Established in 2000, DevCom is a full-service custom software development company, headquartered in the United States (FL) and Ukraine (Lviv). DevCom handles project development throughout the entire lifecycle: starting with strategic planning and UX/UI design, through application development and quality assurance, to technical delivery, production maintenance, and support – all delivered with speed and agility to effectively support businesses in dynamic markets.
If you're in the market for an award-winning I.T. service provider, contact us.