DevCom is currently looking for a  full-time employee (not a contractor) – a Middle Java Developer in Lviv with 2+ years of experience.
Project Description
⇒

  Country: USA

⇒

  Business area: Online trade-in pneumatic weapons.

⇒

 Project: Online store of one company for the sale of pneumatic weapons. It should be converted into a Marketplace for many vendors.

⇒

Technologies used on the project:
– Database engine – MySQL
– Server-side programming language – Java 8
– Web server – Tomcat 8
– Application Framework – Apache Tapestry, Spring Framework
– Web Frameworks – Tapestry 5.4
– RESTful Web Service – Spring
– HTML 5 / CSS 3
– Maven
– AWS
Required Skills
⇒

MySQL, Java 8, Tomcat 8, Apache Tapestry 5.4, Spring Framework, HTML 5/CSS 3, Maven.

⇒

B1 or B2 levels of English –  writing/speaking skills.
Nice to Have Skills
⇒ Apache Tapestry 5.4,
⇒ React JS or React Next.

What Do We Offer
⇒

  Interesting work as part of the professional team.

⇒

  Helpful colleagues and a great work environment.

⇒

  Regular performance reviews.

⇒

  21 working days – paid vacations.

⇒

  Corporate events and team-buildings.

⇒

  Corporate football and volleyball teams.

⇒

  Compensation for sports activities.

⇒

  English classes and other L&D activities like courses and certifications reimbursement.

⇒

  Employee referral program.

⇒

  Recognition gifts and awards.

⇒

  IT club membership.

⇒

  Private rooms (not open space).
To learn more about the DevCom work environment,  please visit the Career page.
Check what our employees say about working at DevCom here.
---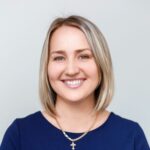 Let's do IT together!
DevCom team will provide you with the opportunity to introduce your ideas and grow as an innovator and specialist. You will be able to develop in a friendly team of true professionals and build your career!
To apply for a job "Middle Java Developer" in Lviv, send your CV to Alina Pavlova right now at jobs@devcom.com