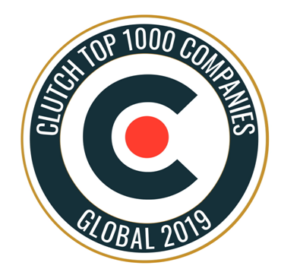 Our team at DevCom has certainly come a long way since our start in 2000. We have had the opportunity to  work closely with companies of all sizes – from small businesses to international groups.  Companies in healthcare, finance, logistics, retail and construction trust us with building complex software solutions and compelling applications to solve their business challenges.
This year, our company has been highlighted by ratings and review firm, Clutch, as being a ranked on the Clutch 1000, a list of the 1000 top-performing service providers.
Companies on the Clutch 1000 come from 35 countries and 374 different cities around the world. 
Due to the Clutch rating:
✔ DevCom is ranked #481 on the Clutch 1000, which places us among the top 1% of the over 160,000 companies list on Clutch!
✔ DevCom is among  140 software development companies on the list.
✔ DevCom is one of only 11 development teams in Ukraine on the list!
To determine rankings, Clutch analyzes a company's:
Quality and quantity of verified client reviews
Recency of verified client reviews
Offered services
Portfolio of clients
Brand reputation
Visibility in its target market
"As a member of the Clutch 1000, these companies represent the top tier of service providers on our platform," said Clutch Founder Mike Beares. "With an impressive array of projects and clientele, superior knowledge, and attentive, detail-oriented customer service, these companies have established themselves as industry leaders both locally and in the global B2B market."
It is especially meaningful to receive an award based on the opinions of our clients. Clutch, a B2B market research firm, conducts interviews directly with the clients of service provides to ensure the reviews on their site are verified. We are thankful to all of our clients who left us reviews on Clutch for both this award and our 4.9-star rating!

"DevCom delivers valuable work at a reasonable price. The agency's contributions increase revenues and streamline processes. They are capable of tackling any technical challenge, remain flexible in their operations, and offer reliable, efficient, and hassle-free communication." – Director of IT, Auditing Nonprofit Organization, Florida (USA)
Clutch also has two sister sites, the Manifest and the Visual Objects. The Manifest features company shortlists alongside short descriptions of their services and a list of notable past clients. We are featured among other tech resources in Ukraine on the Manifest. We are also featured among the best B2B firms in Ukraine on Visual Objects, a portfolio sharing site.
---
Interested in starting your next software development project? Get in touch with us today!

---